Sweet potato biscuits
These warm sweet potato biscuits served with honey make breakfast the very best meal of the day!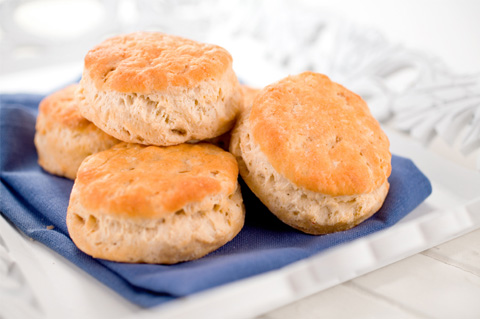 As any good Southern Grandmother will tell you, the secret ingredient to delicious, moist, fluffy biscuits is buttermilk. Between the buttermilk and the sweet potatoes, these biscuits are like a delicious, holiday treat. Remember not to overwork your biscuits, so they will be light and fluffy. Drizzle these warm biscuits with some honey, or mix up some honey butter and you might not even want dessert!
Sweet potato biscuits
Makes 10-12 biscuits
Ingredients:
2 cups self-rising flour
1/2 teaspoon baking powder
2 tablespoons brown sugar
1 teaspoon ground cinnamon
1/2 teaspoon allspice
1/4 cup shortening, chilled
4 tablespoons butter, chilled
1 cup mashed sweet potatoes
3/4 cup buttermilk
2 tablespoons butter, softened for topping
Directions:
Preheat your oven to 450 degrees F.
Mix the flour, baking powder, brown sugar, cinnamon and allspice together with a fork to combine.
Add the butter and shortening and mix until it resembles small peas. You will know that you have incorporated the shortening then.
Make a little hole in the center of the mixture and add your sweet potatoes and buttermilk. At this point, just mix with your hands, but you can use a fork. The key to light, fluffy biscuits is not over-mixing your dough.
Turn the dough out onto the counter that you have sprinkled with flour.
Lightly knead the dough, then roll it out to your desired thickness, and using a floured, small juice or shot glass (or a floured biscuit cutter) cut the biscuits and place onto a baking stone or baking sheet.
Spread the softened butter on top of each biscuit and bake for 12-14 minutes, being careful not to burn. Enjoy!
More biscuit recipes to try