Apple pancakes
Apple pancakes and spice and everything nice!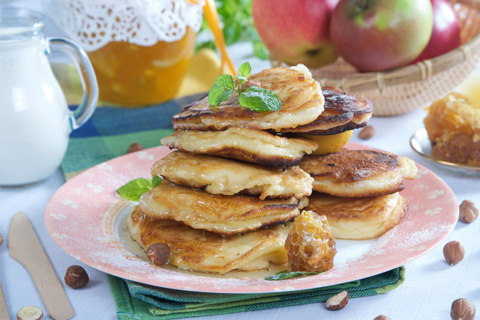 Apple pancakes
Serves 4-6
Fall means apples and these apple pancakes will make you very happy. If you want to give an apple to your child's teacher, consider instead, putting together an apple pancake gift bag or basket. Put the dry mix in a jar with a pretty ribbon and include the recipe for the wet ingredients to add. Put a can of apple pie filling, along with an apple for significance, and you just gave your child's teacher breakfast. Make these for your family and an apple pancake that day will keep the grumpies away!
Ingredients:
1-1/2 cups all-purpose flour
3 teaspoons baking powder
Tiny pinch of salt
1 (heaping) tablespoon sugar
1 to 1-1/4 cups milk*
3 tablespoons of butter, melted
1 teaspoon vanilla (or any flavoring that you would like)
1 egg, beaten
1 (21 ounce) can apple pie filling
Fresh cooked apples (if desired instead of canned filling)
Directions:
In a large bowl, mix dry ingredients with a fork, and stir well to combine.
In a separate bowl, add milk, butter, vanilla and egg, then make an indention with your finger in the bowl with the dry ingredients (like you are digging a hole).
Add the wet ingredients and the apple pie filling, mix until combined, then stop. (If using fresh cooked apples, add them here.) You do not want to over-mix.
Lightly grease and heat your pancake griddle. Using a ladle or a small measuring cup, add your batter to the griddle, and cook. (You will see bubbles on the edges and that tells you it is time to flip!) Cook on both sides until lightly browned.
You may find that you need less milk. Or you may find that you need more. Once you begin to stir your batter, you will learn each time if you want it thicker or thinner.
More apple pancake recipes
Apple pecan pancakes
Apple and cinnamon oatmeal pancakes
Apple ring pancakes