How to make monkey bread
If you're looking for a way to get your kids in the kitchen (and have an unshakable carb craving), monkey bread is the ultimate family-friendly recipe. Not only is from-scratch monkey bread fun to make, it's scrumptiously irresistible once you start pulling it apart and sinking your teeth into every sweet cinnamony bite. Set aside a lazy morning, roll up your sleeves, and get ready to make this heavenly baked treat.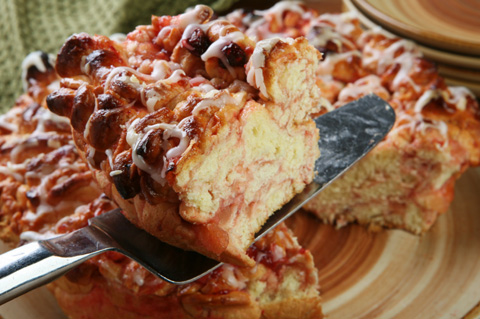 Buttery Cinnamon Brown Sugar Monkey Bread
Serves 8
Absolutely decadent for breakfast or brunch, this melt-in-your-mouth bread is especially good during the holidays when you naturally crave butter, sugar and warm spices. Icing the monkey bread is optional, but it does put it over the top as a sweet treat.
For the bread:
1/3 cup warm water (110 – 115 degrees F.)
2-1/4 teaspoons active dry yeast
1/4 cup granulated sugar
1/2 cup plus 2 tablespoons melted butter, divided
1 cup whole milk, warmed to 115 degrees
3 to 4 cups all-purpose flour
1-1/2 teaspoons salt
1/2 cup raisins
1/2 cup orange juice
1 cup firmly packed brown sugar
2 teaspoons ground cinnamon
1/2 teaspoon ground cloves
1/2 cup toasted walnuts
For the icing:
1/4 cup (1/2 stick) butter
1/2 teaspoon pure vanilla extract
8 ounces powdered sugar
Milk (enough to give icing a drizzling consistency)
Directions:
In the bowl of a stand-up mixer, stir together the water, yeast and sugar. Set aside for 5 minutes or until the mixture is foamy. Stir in 2 tablespoons of the warm butter and all of the milk.
In a large bowl, whisk together the flour and salt. Add 3-1/2 cups of the flour mixture to a mixer bowl.
Spray the mixer's dough hook and attach it to the mixer. Mix the flour mixture on low speed until the ingredients come together. Add a bit more flour if the mixture seems wet or the dough doesn't easily come into a ball.
Increase the speed to medium-high and knead for 5 to 7 minutes or until the dough is smooth and tacky.
Turn the dough onto a lightly floured surface and knead a few times to form it into a smooth, round ball.
Oil a large bowl and place the dough in a bowl, turning it over to coat. Cover the bowl with a damp towel and set in a warm, draft-free place to rise for 1 hour or until it is doubled in size.
Meanwhile, place the raisins and orange juice in a small saucepan over medium-high heat. Bring to a boil, stirring occasionally. Remove from heat and set aside for 10 minutes to plump the raisins. Drain the raisins well and set aside.
Spray a tube pan with cooking spray.
Use your fist to punch the dough down then dump it out onto a lightly floured surface. Roll the dough out and form into 64 balls.
In a medium bowl, melt the remaining butter in the microwave. In a shallow dish, combine the brown sugar, cinnamon, and cloves.
Dip each dough ball in the butter, roll it in the sugar mixture then place it in the tube pan, covering the bottom of the pan. Sprinkle with some walnuts and raisins. Repeat layering.
Cover the pan with a damp towel and set aside in a warm, draft-free place. Let rise for 50 minutes.
Preheat your oven to 350 degrees F.
Bake for 20 to 25 minutes or until the bread is golden and baked through. Let cool for 10 minutes on a wire rack.
Meanwhile, make the icing. In a medium bowl, whisk together the butter, vanilla, sugar and enough milk to make a drizzling consistency.
Invert the bread onto a serving platter. Drizzle with icing and serve warm.
More tasty baking recipes
Raspberry yogurt muffins
How to use a Mason jar as a baking vessel
Healthy makeover: Banana bread