Cereal cookie recipe
Cookies for breakfast?! Mom and Dad will have no problem saying yes to healthy cookies made with whole grain cereal, any time of the day.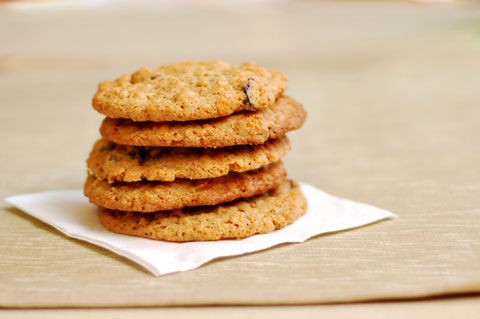 Cereal cookie recipe
Makes 24 cookies
Ingredients:
1 stick butter, softened
1/2 cup brown sugar
1/2 cup powdered sugar
2 eggs
1 teaspoon vanilla
1-1/4 cup whole wheat flour
1/2 cup oats
1 teaspoon baking soda
1 teaspoon baking powder
1/2 teaspoon salt
1/2 teaspoon cinnamon
2 cups whole grain cereal
1/2 cup dried fruit
Directions:
Preheat the oven to 350 degrees F.
Cream together the butter and sugar, then mix in eggs and vanilla.
In a separate bowl, whisk together the flour, oats, baking soda, baking powder, salt and cinnamon.
Slowly mix the flour mixture into the wet ingredients.
Add in the whole grain cereal and dried fruit and mix until the ingredients are well incorporated.
Drop the batter in rounded tablespoonfuls onto a cookie sheet.
Bake in the oven for 15-18 minutes until lightly browned.
More healthy breakfast ideas
5 Healthy breakfast recipes the kids can make
Quick and healthy breakfast fruit recipes
The best kid-friendly breakfast recipes