Apple pie in a crock-pot
Forget spending hours rolling out pie crust (only to have it crumble and fall apart) or peeling apples. This fall, the only prep you'll need to do for your favorite apple pie is warming up your crock-pot! This dessert (technically more of a crisp) cooks itself for hours in the slow cooker so you can have a few more hours of me time.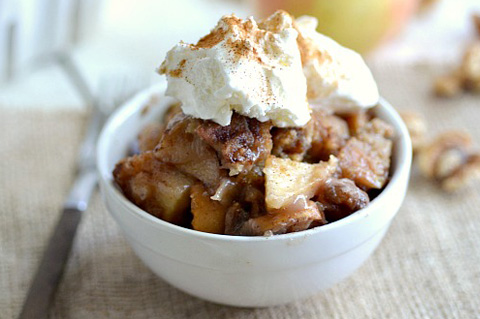 Because this pie is made in a crock-pot, it will resemble more of an apple crisp than a pie. However, the crispy, flakey dough on top paired with the luscious, caramelized apple give it a decadent pie flavor. Paired with some soft vanilla ice cream and you have the world's best (and did we say easiest) dessert ever! You may never make a real pie again!
Apple pie in a crock-pot
Recipe adapted from Food.com
Serves about 6 - 8
Ingredients:
6 cups chopped apples
1-1/2 teaspoons pumpkin pie spice
1/2 cup milk
1/4 cup light cream
2 tablespoons butter, softened
1/2 cup sugar
1/4 cup brown sugar
2 eggs
1 teaspoon vanilla, to taste
1/2 cup Bisquick
For the topping:
1/3 cup brown sugar
2/3 cup flour
1 teaspoon cinnamon
3 tablespoons cold butter
Directions:
Toss the apples with pumpkin pie spice. Place in the bottom of a slightly greased crock-pot.
In a bowl, mix the butter, milk, cream, sugar, eggs, 1/2 cup of Bisquick and vanilla together. Carefully pour the mixture over the apples.
Cut the remaining butter into the flour, cinnamon and brown sugar. Sprinkle over the apples.
Let cook on low for about 6 hours or until soft. Serve with ice cream and enjoy!
More crock-pot recipes
Crock-pot teriyaki chicken wings recipe
Weight Watchers crock-pot recipes
Crock-pot beef stew recipe