Gluten-free strawberry jam cookies
Gluten-free or not, these jam thumbprints are perfect and best served with a glass of milk or a mug of your favorite coffee.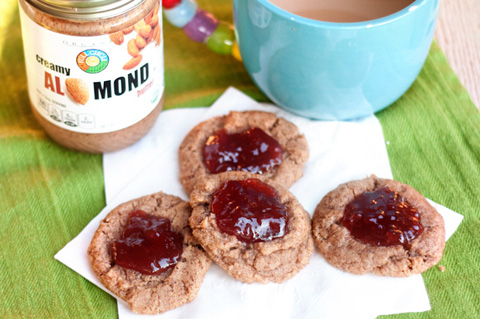 Gluten-free strawberry jam cookies
Makes 24 cookies
Ingredients:
1 cup almond butter
1 cup sugar
1 whole egg
1/4 teaspoon salt
3/4 cup strawberry jam
Directions:
Preheat your oven to 350 degrees F.
Line a baking sheet with parchment paper and set aside.
In a bowl combine the almond butter, sugar, egg and salt.
Scoop the dough into 24 balls and roll until round.
Using the rounded back of a teaspoon, gently make an indention in the center of the cookies.
Bake for 9 to 11 minutes until golden on the bottom.
Let cool completely, then spoon the strawberry jam evenly into the cookies.
More gluten-free cookie recipes
Gluten-free double chocolate chip cookie recipe
Rosemary hazelnut shortbread cookies
French-style macaroons