Mini Southwest breakfast quiches
Breakfast turns south of the border with delicious vegetables, spices and cheese. Be sure to make a double batch since they reheat well for lunches too!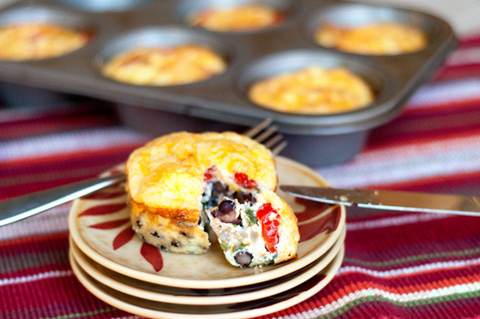 Miniature Southwest breakfast quiche
Makes 6 individual quiches
Ingredients:
6 whole eggs
1/4 cup milk
1 (15-ounce) can black beans, rinsed and drained
1 small onion, chopped
1 whole poblano pepper, seeded and chopped
1 cup chopped tomatoes
1 teaspoon minced garlic
1/4 teaspoon cumin
1/4 teaspoon chili powder
1/2 teaspoon garlic powder
Salt and pepper to taste
1/2 cup shredded cheddar cheese
Directions:
Preheat your oven to 350 degrees.
Spray a 6-muffin jumbo muffin tin with nonstick spray.
Heat a nonstick skillet over medium-low heat.
Add the chopped onion and poblano peppers and sauté for about 5-6 minutes until tender.
Add the drained black beans to the mixture and cook until heated through.
Remove from the heat.
In a bowl, whisk together the eggs, milk, cumin, chili powder, garlic powder, salt and pepper.
Spoon the bean mixture evenly into the prepared muffin pan.
Sprinkle evenly with chopped tomatoes.
Top evenly with the shredded cheese.
Pour the egg mixture evenly over the top of each muffin cup and gently tap the pan on the countertop to allow the egg mixture to spread.
Bake for 20 minutes until just set.
Serve hot or at room temperature.
More delicious quiche recipes
Zucchini quiche recipe
Healthy makeover: Quiche Lorraine
Broccoli and Parmesan quiche recipe