Honeyed grilled sweet potatoes
Fall and sweet potatoes go hand-in-hand. Liven up your sweet potato menu with this grilled version that is perfect for enjoying the last few days of grill-friendly weather and can be made on a grill pan indoors as well! Honey and black pepper add tons of flavor!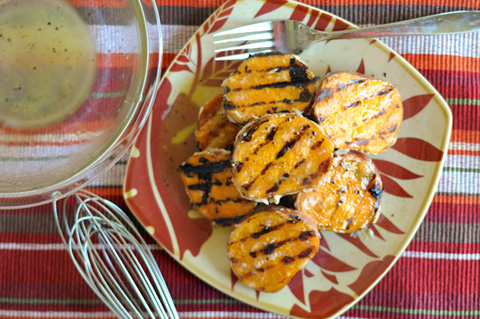 Honeyed grilled sweet potatoes recipe
Makes 2 whole sweet potatoes
Ingredients:
2 whole sweet potatoes, washed
2 tablespoons prepared mayonnaise
2 tablespoons honey, divided
1 teaspoon Dijon mustard
2 tablespoons lemon juice
1 tablespoons olive oil
1/2 teaspoon fresh cracked black pepper
1 pinch salt
Directions:
Slice the potatoes into rings about 1/2-inch thick.
Place the rings in a pot and cover with water.
Bring to a boil and boil for about 8-9 minutes, or until the potatoes are almost done.
Drain immediately.
While the potatoes are boiling stir together the mayonnaise, Dijon mustard and 1 tablespoon of honey.
When the potatoes are drained toss them in the mayonnaise mixture to coat.
Heat a grill or a grill pan over medium heat until it sizzles when a little water is sprinkled on top.
Spray with nonstick spray.
Place the potato slices on the grill and grill for 2-3 minutes per side until there are definitive grill marks and the potatoes are cooked all the way through.
While the potatoes are grilling, whisk together the lemon juice, olive oil, salt, pepper and remaining honey until smooth.
When the potatoes are done cooking pour the lemon juice mixture over the top.
Serve hot or at room temperature.
More sweet potato recipes
3 Sweet potato casseroles
Broccoli sweet potato cakes
Jerk-style sweet potatoes