Baked Coca-Cola chicken recipe
If you have a family of picky eaters, we guarantee this recipe will appease them all. Not only is chicken one of the most universally loved meats (by kids and husbands alike), it's also one of the leanest and easiest to prepare! This chicken recipe will become an instant classic in your house because it has the perfect blend of sweet and savory!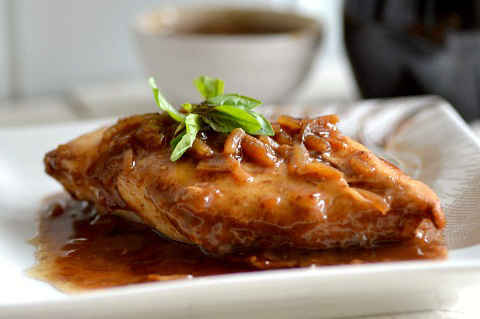 Baked Coca-Cola chicken recipe
Serves about 4
Recipe adapted from Cooks.com
The sweetness of the Coca-Cola pairs perfectly with the savory taste of the onion soup in this baked chicken recipe. Serve this delicious chicken with rice or over pasta noodles! Be sure to save the gravy, it's the best part!

Ingredients: 
4 boneless, skinless chicken breasts
12 ounces of Coca-Cola
2 tablespoons water
1 package of French onion soup mix
2-1/2 tablespoons all-purpose flour
Liberal dashes of salt and pepper
1 tablespoon oregano
Directions: 
Grease a glass baking dish with nonstick cooking spray. Preheat your oven to 350 degrees F.
Place the chicken in the baking dish. In a bowl, mix together the Coca-Cola and the onion soup mix. Stir to mix. Add in the flour, water, salt and pepper and oregano, stir well with a whisk.
Pour the mixture over the chicken.
Bake for about an hour, or until the chicken is done and the gravy is bubbly.
More easy chicken recipes
Easy and delicious chicken marsala recipe
3 Quick & easy chicken recipes using stock
Easy chicken meatballs recipe