Apple-shaped popcorn balls recipe
Fall is all about apples and baking. If you can't go apple picking this year, get creative and make your own apples! Whip up a unique fall treat with apple-shaped popcorn balls.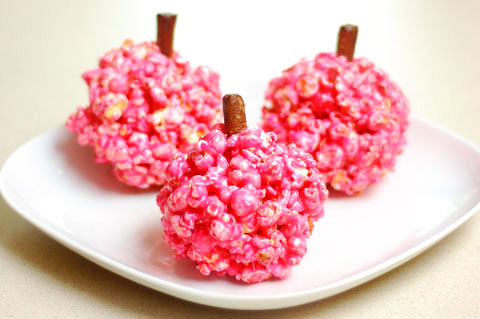 Apple-shaped popcorn balls recipe
Makes 8 popcorn balls
Ingredients:
3 tablespoons canola oil
2/3 cup popcorn kernels
1/2 cup of butter
1/2 cup of brown sugar
1 (16 ounce) bag of jet puffed marshmallows
Red food coloring
4 pretzel sticks
Directions:
Heat the oil over medium-high heat on the stove.
Drop three corn kernels into the pot. Once those three kernels have popped, the oil is hot enough and you can add the rest of the popcorn kernels.
Place a lid on the pot and allow all of the popcorn kernels to pop. Remove the pot from the heat once the popping has spaced out to once every 10-15 seconds. Set the popcorn aside.
In a separate large pot dissolve the butter and brown sugar over medium-high heat.
Add in the marshmallows and stir constantly until the marshmallows are completely melted.
Stir in the red food coloring until you achieve your desired color.
Pour in the popcorn and stir until all of the popcorn pieces are coated with the marshmallow mixture. Remove the pot from the heat and allow the popcorn to cool slightly.
Once the popcorn is cool enough to handle, wet your hands with cold water and shape the popcorn into eight balls. Pack the popcorn tightly so that it will hold it's shape. (Caution: The popcorn will be hot, allow it to cool until the point that you are able to safely handle it to avoid burns.)
Place the popcorn balls on a cookie sheet and set them in the fridge for 15-20 minutes to allow them to harden.
Remove the popcorn balls from the fridge. Break the four pretzel sticks in half and place each pretzel piece in the top of a popcorn ball to create the stem of the apple.
More fall recipes
Fall snacks and dessert recipes
Apple dessert recipes for fall
Healthy fall comfort foods
---
More From SheKnows Explorer
---
---