Kiwi agua fresca
Refreshing, cool and sweet, this kiwi agua fresca will be a treat for both kids and parents alike!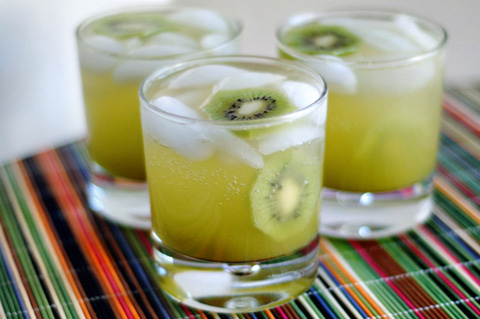 Kiwi agua fresca
Makes 4 (8 ounce) glasses
Ingredients:
6 whole kiwis
1-1/4 cups water
1-1/2 tablespoons sugar
1-1/2 tablespoons lime juice
1 liter club soda
Directions:
Wash and peel the kiwis, then slice into quarters.
Dissolve the sugar into the lime juice and water.
Add the kiwis and the water mixture to a blender and pulse to combine.
Place a colander lined with a linen kitchen towel or cheesecloth over a large bowl.
Pour the kiwi mixture into the towel, gather the sides, and squeeze out the remaining liquid.
Discard the solids.
To serve, ladle the kiwi mixture into four 8-ounce glasses filled with ice.
Top off with club soda and stir gently.
More refreshing agua fresca recipes
Mango agua fresca
Mexican pineapple agua fresca
Watermelon agua fresca