Barbeque bacon Ranch bread
This pull-apart bread will become a favorite for every get-together, and no one needs to know how simple it is!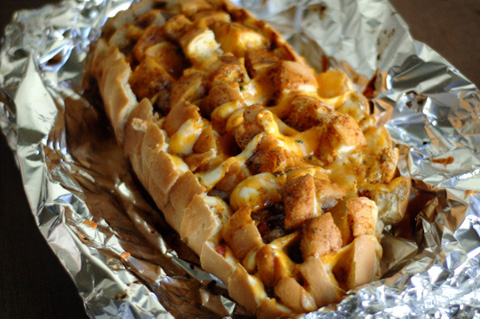 Barbeque bacon Ranch bread
Serves 6
Ingredients:
1 (12-inch) loaf sourdough bread
1 cup shredded Colby Jack cheese
1/2 cup crumbled bacon
1/2 cup melted butter
1-1/2 tablespoons Ranch dressing seasoning
1 tablespoons barbeque seasoning (such as Stubb's)
1 tablespoon prepared barbeque sauce
Directions:
Preheat your oven to 350 degrees F.
Slice the bread into 3/4-inch segments, taking care to not cut all the way through the bottom crust.
Sprinkle the crumbled bacon and shredded cheese in between all of the bread segments.
Stir together the melted butter, Ranch mix, barbeque seasoning and barbeque sauce.
Pour evenly over the bread.
Wrap in foil for 15 minutes, then open the foil and let bake another 10 minutes until the cheese is melted.
Serve hot.
More game day treats
Top 5 recipes for a game day party
Game day chili recipes
Nacho party snack dip recipe