Apple pie cupcakes recipe
Apple picking is one of the best parts of the fall season, but it can leave you wondering what to do with all those apples. If you are looking for something to make beyond the usual apple pie and applesauce, try whipping up some apple pie cupcakes.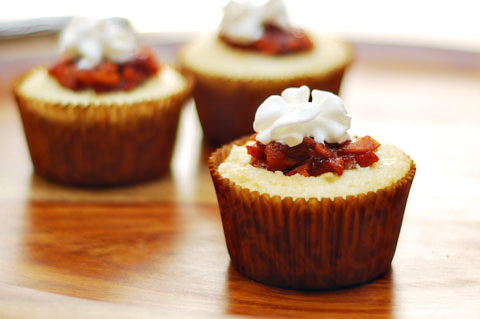 Apple pie cupcakes recipe
Makes 24 cupcakes
Ingredients:
1 box Betty Crocker vanilla cake mix
1 cup water
1/2 cup vegetable oil
3 eggs
2 tablespoons butter
2 tablespoons sugar
1 teaspoon cinnamon
4 apples, peeled, cored and chopped
Whipped cream
Directions:
Preheat the oven to 350 degrees F.
In a large bowl mix together the cake mix, water, vegetable oil and eggs.
Line cupcake pans with 24 baking cup liners. Fill each baking cup 2/3 of the way full with batter.
Bake in the oven for 15-20 minutes until a toothpick comes out clean from the center of the cupcakes.
Remove the cupcakes from the oven and allow them to cool.
While the cupcakes cool, melt the butter in a medium skillet, then add the sugar and cinnamon and stir until the sugar is dissolved.
Add the chopped apples to the skillet and cook for 5-7 minutes until the apples are tender.
Remove the apples from the skillet and allow them to cool.
While the apples cool, use a small spoon to remove the center of each cupcake, creating a well. Fill each well with some of the apple mixture, dividing it evenly among the cupcakes.
Top the cupcakes with whipped cream and serve immediately.
More apple recipes
Apple dumpling recipes
Apple pie enchilada recipe
Healthy apple strudel recipe