3 Easy oatmeal recipes
Don't start your day by stressing over breakfast! Keep it simple on busy mornings with these easy oatmeal recipes.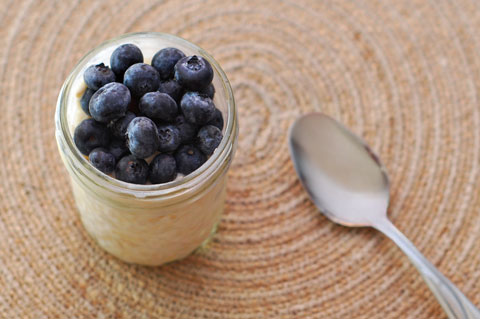 Refrigerator oatmeal recipe
Makes 1 jar
Ingredients:
1/3 cup old fashioned oats
1/3 cup milk
1/4 cup yogurt
1 tablespoon maple syrup
1/3 cup fresh fruit
Directions:
In a half-pint (8 ounce) Mason jar, pour in the oats, milk, yogurt and maple syrup.
Put the lid on the jar and shake it to combine the ingredients.
Fill the jar the rest of the way with fresh fruit, place the lid on and shake the jar again to mix the fruit.
Place the jar with the lid on into the refrigerator and refrigerate overnight for at least 8 hours.
Fresh banana and pear oatmeal
Serves 2
Ingredients:
1 cup oats
1 cup water
1 cup milk
2 tablespoons honey
1 tablespoon maple syrup
1/2 teaspoon cinnamon
1 diced pear
1 chopped banana
Directions:
Combine the milk and the water in a small saucepan and slowly bring it to a boil.
Add the oats and reduce the heat to low.
Cover the pot with a lid and simmer, stirring occasionally, until the liquid is absorbed into the oats.
Stir in the honey, maple syrup, cinnamon, diced pair and chopped bananas.
Cinnamon baked oatmeal recipe
Makes 16 servings
Ingredients:
2 cups old fashioned oats
1/3 cup brown sugar
2 tablespoons cinnamon
1 teaspoon baking powder
1/2 teaspoon nutmeg
1 egg
1-1/2 cups milk
1/2 cup applesauce
2 tablespoons melted butter
1 teaspoon vanilla
Directions:
Preheat the oven to 350 degrees F.
In a large bowl, combine the oats, brown sugar, cinnamon, baking powder and nutmeg.
In a separate bowl, beat the egg, then add the milk, applesauce, butter and vanilla.
Add the wet ingredients to the dry ingredients and stir until all ingredients are well mixed.
Add the ingredients to a well greased 8 x 8-inch glass baking dish. Bake the oatmeal for 20 minutes until the oatmeal is a golden brown. Slice and serve warm.
More breakfast ideas
Banana peanut butter oatmeal bars
Hash brown brunch cups
Crunchy homemade oatmeal cereal squares