Back to school lunches
Try these easy ideas to send your kids to school with a healthy, cold lunch in their lunchbox!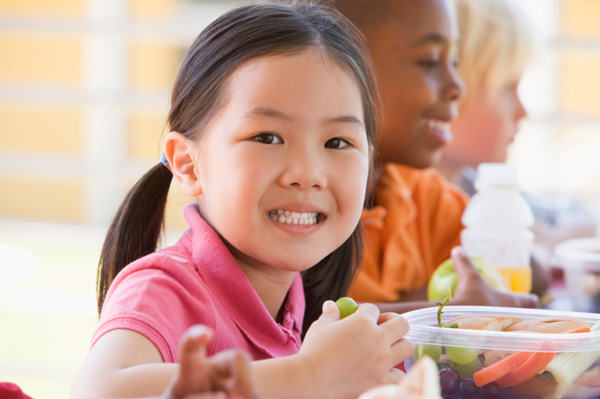 Back-to-school means back-to-school lists, new this and that and of course, the lunches! Each year that a new lunchbox is purchased, along with it come the exciting possibilities of what that year will hold. But school lunches do not have to be old, boring, tried and true PB&J only! No, they can be so much more! In fact, make it a challenge to be a fun, healthy lunch. One way to cut down on the stress levels for Mom, is to pack the lunch the night before and put it in the refrigerator. That is a great way to keep the lunch cold -- making mornings less stressful.
Back to school lunches
Ingredients:
Yogurt
Applesauce
Sandwich or wrap
Fresh fruit
Carrots, celery
Almonds
Pretzels
Water bottle
Juice box
Soymilk
Cold pasta dish
Directions:
The night before, place the grapes, strawberries or blueberries in a zip-top sandwich bag and freeze. (This helps to keep lunch cold.)
Freeze the yogurt or applesauce the night before.
Make the sandwich or wrap (using tortillas of any kind) the night before and wrap in plastic wrap or a plastic container with a lid.
Pack the fresh fruit, carrots or celery with peanut butter for dipping, in a plastic container.
Pack the pretzels or almonds and place them in the lunchbox.
If pasta salad is available, pack it in a small, plastic container, then place it in the lunchbox.
Refrigerate the lunchbox overnight.
If your child's lunch is more than 3 hours after they arrive at school, freeze their water bottle (or at least half of the mixture) over night. (This is another way to keep the lunch cold and for your child to have cold water to drink.) No need to pack sugary drinks. Water is healthier but if you send a juice box, you can freeze it the night before, as well.
Stick a note inside to remind them that not only do you hope they have a great day, but to do their best, be kind and that you love them! (Notes on bananas are always fun for little ones!)
These are great ways to keep your child's lunch cold and healthy!
More lunchbox ideas
5 Lunchbox surprises to make your kids squeal
Lunchbox recipes your kids can make
Back to school lunchbox dessert recipes
---
More From SheKnows Explorer
---
---