Fun lunchbox surprises for kids
A sack lunch doesn't have to be boring! Make school lunchtime exciting with fun lunchbox surprises that will brighten your child's day.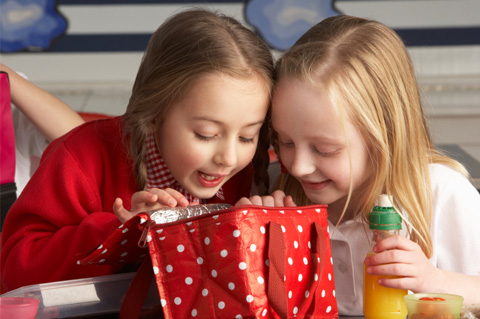 Just because you have to be apart from your child while they are at school doesn't mean you can't let them know you are thinking of them. Liven up lunchtime and show how much you care by stashing away a fun surprise when you make lunch. These lunchbox surprises are sure to make your child's day and put a smile on her face.
Send along a love note
Handwrite a sweet message on a paper napkin. You can send good luck wishes for an important test or a big game, by simply writing an I love you note, or a doodle with a cute smiley face. The extra time you take will let your son or daughter know you are thinking about them.
Get creative with food
Make an ordinary sandwich into something special with just a simple cookie cutter. You can make a sandwich in the shape of your child's favorite animal, favorite sport or even the first letter of her name. You can tap into your artistic side and add extra detail to the designs with a food coloring pen.
Stash a favorite photo
Sneak a photo of a favorite pet or a fun family vacation into the lunchbox. It will be a sweet reminder of home and your child will love showing off pictures of his beloved dog or of his wild summer adventures. It also makes a great conversation starter for lunchtime.
Pack a stowaway
Pack a small toy or stuffed animal for your son or daughter to find at snack time or lunchtime. The dollar store is a great place to find inexpensive toys to send along.
Think outside the juice box
A crazy straw or some brightly colored utensils are the perfect surprise to make lunch more entertaining. Your kid will become the envy of the cafeteria and enjoy sipping her juice in style.
More lunchbox ideas
Playing with your food
Portable comfort food recipes
How to make animal-shaped food
---
More From SheKnows Explorer
---
---