Easy caramel-dipped apple slices
Caramel-dipped apple slices are not only easier to eat, but fun to make. We can't promise your dentist will completely approve of these sweet treats (unless you promise to brush your teeth afterward), but they'll prefer them to the clumsy, tooth-breaking alternative!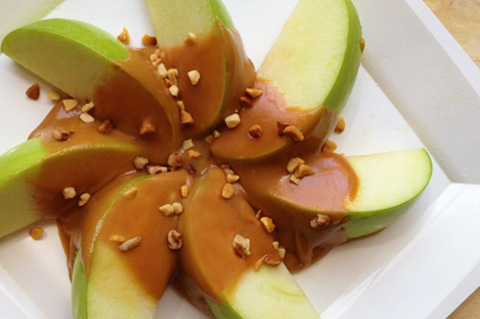 Easy caramel-dipped apple slices recipe
Serves 8
Ingredients:
4 Granny Smith apples
7 ounces sweetened condensed milk
9 ounces caramel squares (about 28 candies), unwrapped
4 tablespoons margarine (1/2 stick)
Nuts, chopped (optional)
Directions:
Slice the apples in half, then slice each half in quarters. Cut the core off each slice.
Put condensed milk, caramel squares and butter in a small microwave-safe bowl and heat on high for 30 seconds at a time, stirring after each heating, until completely melted and combined (about 2 minutes).
Serve immediately as a dip or pre-dunk slices into the caramel sauce, plate and serve with nuts.
Note that you can double this recipe to use the entire can of milk, but it's best to make only as much as you need and store the ingredients. The caramel sauce may not hold up well to several reheatings. You can also add a little extra milk and/or butter if you'd like the mixture thinner.
More apple recipes
Caramel cheesecake dip recipe
Poison apple party dip recipe
Get juiced! Make a batch of apple cider at home