Spooky ghost pizza recipe
Halloween is every kid's favorite holiday (hello, free candy!) However, as adults, that doesn't mean we can't have any fun. Halloween is the one time of year we can play with our food and really let our creative genius flow in the kitchen. Take this adorable ghost pizza, for example. Made the same way you make every other pizza, just with fun, ghouly shapes!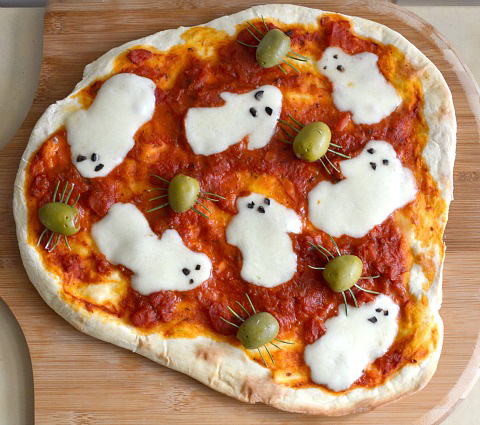 Spooky ghost pizza recipe
Serves about 6
Recipe adapted from My Recipes
This adorable ghost inspired pizza is the perfect way to add some Halloween flair to your typical weeknight meal. Plus, you can make the dough a few days ahead of time so all you have to do is roll out, add toppings and bake! For some more Halloween fun, add in little bats, spiders or tombstones!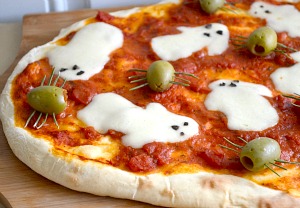 Ingredients: 
1 homemade pizza crust (use this recipe)
1 tablespoon extra virgin olive oil
3/4 cup marinara sauce
8 ounces fresh mozzarella cheese
Black olives, chopped
Green olives
Rosemary leaves
Directions:
Preheat your oven to 425 degrees F. Grease a pizza pan with nonstick cooking spray.
Roll out the crust on a floured surface with a floured rolling pin to about 1/4-inch thickness.
Spread the pizza sauce over the crust until it's fully covered. Bake the crust for about 8 - 10 minutes, or until the crust is golden brown.
Slice the fresh mozzarella. Using a ghost cookie cutter cut out some ghost shapes. Place the ghosts on top of the pizza sauce. Using the finely chopped olives, place eyes on the head of the ghosts. Bake the pizza for about 5 - 6 minutes, or until the cheese is fully melted.
Once the pizza is baked, make spiders by sticking the rosemary leaves into the green olives. Place the spiders next to the ghosts and serve.
More Halloween-inspired recipes
Halloween candy cookies
Spooky Halloween treats
Halloween hamburgers for kids