Orange muffins with orange glaze
These sweet orange muffins will make a perfect appearance on your breakfast table. Especially when drizzled with a sweet orange glaze.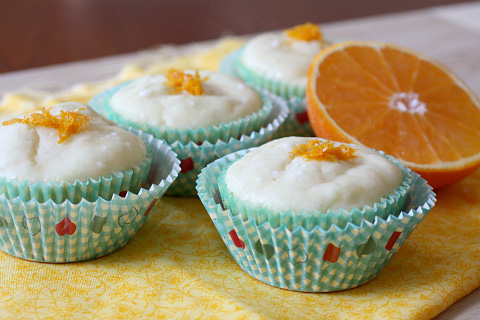 Orange muffins with orange glaze
Yield about 24 muffins
Recipe adapted from Annie's Eats
Orange juice is not the only way to incorporate orange into your breakfast routine. These little muffins are packed with citrus flavor and even better when drizzled with a sweet orange glaze. They are perfect for the weekend or even on a slow weekday morning. Because the glaze adds a bit of sweetness it's not even necessary to slather on butter. However, we won't tell on you if you decide to use butter too.
Ingredients:
For muffins:
1 cup whole milk
1/2 cup orange juice
1/2 cup sour cream
2 large eggs
2 sticks butter (melted)
3-1/2 cups white whole wheat flour
1 cup sugar
1-1/2 tablespoon baking powder
1/2 teaspoon salt
Zest of 1 orange
For glaze:
1/4 cup orange juice
1-1/2 cups powdered sugar
2 teaspoons orange zest
Directions:
Preheat your oven to 350 degrees F.
Line a cupcake or muffin pan with liners and set aside.
In a bowl of an electric mixer add the whole milk, orange juice, sour cream, eggs and melted butter. Mix together on low until blended.
In a large bowl sift together the flour, sugar, baking powder and salt.
Pour the wet ingredients into the dry and stir until combined. Fold in the zest once the batter is mixed.
Add about 4 tablespoons of batter per lined cup and bake for about 18 minutes, or until a toothpick inserted in the center comes out clean.
Let the muffins cool while you make the glaze.
To make the glaze simply whisk together the orange juice, powdered sugar and zest. If your glaze is too thin simply add more powdered sugar. If it's too thick add more juice.
Drizzle over the muffins or you can dip your muffins into the glaze for even more coverage.
More muffin recipes
Rhubarb walnut muffin recipe
Drunken apple spice muffin recipe
Healthy apple bran muffin recipe