Overnight French toast casserole
Sometimes the thought of waking up and making breakfast is too much! This dish can be prepped at night and popped in the oven in the morning.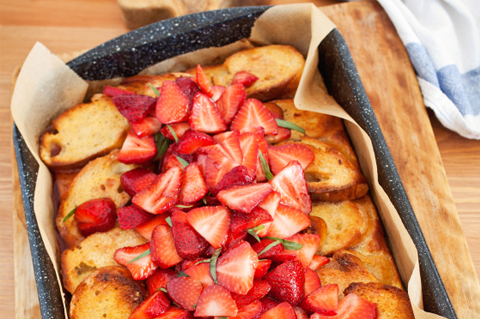 Overnight French toast casserole
Yields a 9 x 13-inch baking dish
Nothing is better than waking up to a nice hot breakfast. Unfortunately, unless you can afford a private chef, you will have to make your own. Now, we can't make a chef magically show up in your kitchen but we can help you make breakfast as easy as possible with this recipe.
Ingredients:
1 large loaf challah bread (stale)
6 eggs
2 cups half and half
2 teaspoons vanilla paste (or extract)
1 teaspoon ground cinnamon
1/4 teaspoon ground nutmeg
3/4 cup butter
1-1/4 cups dark brown sugar
3 tablespoons pure maple syrup
Directions:
Butter a 9 x 13-inch glass baking dish.
Arrange the bread to cover the bottom of the dish. Do not overlap the bread too much or some pieces will be a little dry after baking.
In a large bowl beat together the eggs, half and half, vanilla paste and cinnamon.
Pour over the bread, cover and refrigerate overnight.
In the morning, preheat the oven to 350 degrees F.
In a small pan, combine the butter, brown sugar and maple syrup. Heat until it is simmering and pour over the bread.
Bake uncovered for about 40 minutes.
Top with fresh berries or even more maple syrup.
Note: To quickly stale bread, you can slice and leave out overnight.
More French toast recipes
Crunchy coconut French toast recipe
Hawaiian French toast recipe
Stuffed French toast recipe