Salted caramel and chocolate popcorn balls
Popcorn balls are fun and easy to make. They are especially decadent when drizzled with salted caramel and chocolate.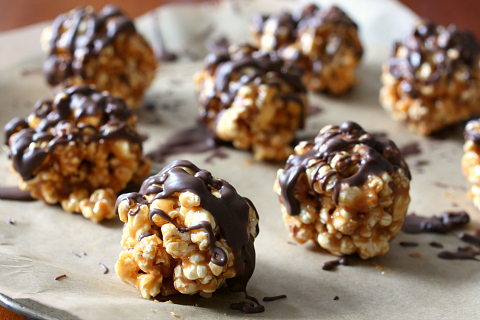 Salted caramel with chocolate popcorn balls
Yield 8 small popcorn balls
Popcorn balls are a nostalgic treat from the past. However, these little bundles of sweetness are no longer just for Christmas stockings. We have taken fresh popcorn and combined it with sweet and salty caramel. It's the perfect combination! Then we drizzled it with chocolate. Who wouldn't be happy to snack on this?
Ingredients:
1/2 cup unwrapped caramel or caramel bits
1 to 2 teaspoons sea salt
2 tablespoons heavy cream
5 cups popped popcorn
1/4 cup melted chocolate
Directions:
In a medium saucepan over medium-low heat, melt together the caramel, sea salt and heavy cream. It's ready when it's smooth and melted together completely.
In a large bowl, add the popped popcorn and pour the melted caramel on top. Using a silicone spatula stir together until all the popcorn is covered in caramel. Let the caramel sit for a few minutes so it can't cool down but don't let it sit too long or it will harden.
Put on a pair of latex gloves and spray them with non-stick spray. You could also do this by just spraying your bare hands but the caramel could be a little warm for your hands.
Gather a handful of popcorn and compress it into a ball. Set it on wax paper and let it harden and cool.
Drizzle with chocolate when completely cool.
You can store the popcorn balls by putting them in a piece of wax paper and twisting each side to keep it closed.
More popcorn recipes
Five-spice popcorn recipe
Marshmallow popcorn ball recipe
S'mores popcorn bar recipe
---
More From SheKnows Explorer
---
---