Homemade Take-5 bars
We all love candy bars but the price and ingredients can be scary! This simple recipe can be made at home and is even better!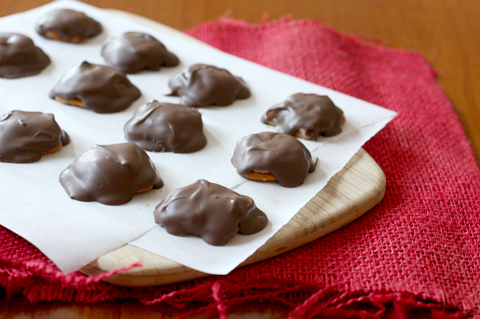 Homemade Take-5 bar recipe
Yields 24 bites
The checkout lane can be the most dangerous of the entire grocery store. Row after row of candy bars -- calling for you to buy them. Luckily, you can now walk right past them without even a second glance. You can go home and in under 15 minutes you can have yourself a homemade, totally delicious bite-size candy bar. This homemade Take-5 bar is a perfect combination of pretzel, peanut butter, caramel and chocolate. It's crunchy, sweet, gooey and dipped in chocolate. What's not to love?
Ingredients:
24 square pretzels
1/3 cup peanut butter
1/3 cup melted caramel
1 cup melted milk chocolate
Directions:
Cut out a piece of parchment or wax paper and lay out 24 pretzels.
Using a butter knife add about 1/2 teaspoon of peanut butter to each pretzel. More or less depending on your love of peanut butter.
Using a small spoon, add a drizzle of caramel to the top of the peanut butter. At this point you can either let your pretzels sit for a while until the caramel is hard or pop in the freezer for about 10 minutes to harden.
After the caramel is set, top with the chocolate. You can either dip the whole mixture into the chocolate or use a spoon to gently cover each bite. We find the second method to be a little more time consuming, but the outcome is better.
More homemade candy recipes
Homemade peppermint candy recipe
Homemade Halloween candy recipe
DIY Rock candy recipe