Banana peanut butter oatmeal bars
As the kids return to school, mornings become busy once again. Keep things simple with make-ahead breakfasts that the kids can grab in a hurry. Whip up these banana peanut butter oatmeal bars and you can have an easy, nutritious breakfast that will keep the kids full until lunch time.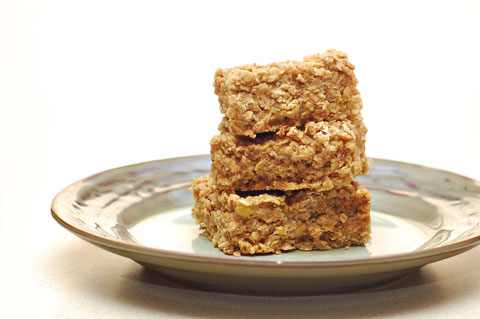 Banana peanut butter oatmeal bars
Makes 16 bars
Ingredients:
3 cups old fashioned oats
1/4 cup brown sugar
1/2 teaspoon salt
1/2 teaspoon baking powder
1 teaspoon cinnamon
2 mashed bananas
1/2 cup milk
1/2 cup peanut butter
1/4 cup maple syrup
1 egg
Directions:
Preheat the oven to 350 degrees F.
In a large mixing bowl, combine the oats, brown sugar, baking powder, salt and cinnamon.
In a separate mixing bowl, stir together the mashed bananas, milk, peanut butter, maple syrup and egg.
Add the wet ingredients to the dry ingredients and stir until well combined.
Transfer the mixture to a greased 8 x 8-inch baking dish.
Bake in the oven for 20-25 minutes, until the dish begins to brown.
More great breakfast ideas
Hashbrown brunch cups
Whole wheat French toast sticks recipe
How to make ebelskivers