Healthy tweaks of our favorite treats
Find some compromise at snack time with these healthy twists on your kids' favorite treats. Moms and kids can both feel great about the fruit in their Rice Krispies treats, protein and fiber added to their popcorn, and applesauce and oatmeal baked into their cookies.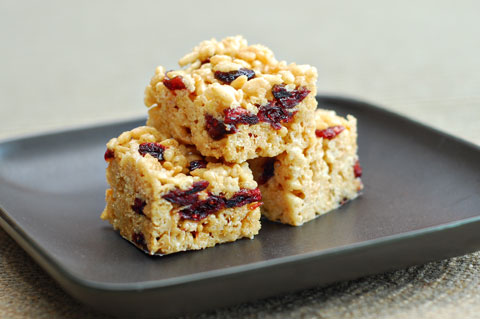 Rice Krispies with dried fruit recipe
Makes 18 treats
Add some dried fruit to the classic Rice Krispies treat to add some nutrition to this favorite afternoon snack.
Ingredients:
1 stick of butter
1 (10 ounce) bag of jet-puffed marshmallows
6 cups of rice cereal
1 cup of dried fruit
Directions:
In a large pot, melt the butter over medium-high heat.
Once the butter is melted add in the bag of marshmallows. Stir the marshmallows until they are completely melted.
Pour in the rice cereal and the dried fruit, and stir until the ingredients are well combined.
Transfer the mixture to a 9 x 13-inch pan. Spread it into an even layer and allow it to cool.
Once cooled, slice the treats into 18 sections and serve.
Healthy cheesy popcorn recipe
Makes 8 cups
Popcorn makes a great snack, but there isn't much that's healthy about it. Try adding some nutritional yeast to your next batch of popcorn. It will add a cheesy flavor that will make it feel like a treat -- but the nutritional yeast will add protein, fiber and vitamins that would otherwise be lacking from traditional popcorn.
Ingredients:
3 tablespoons canola oil
1/3 cup popcorn kernels
2 tablespoons melted butter
2 tablespoons nutritional yeast (more if desired)
Directions:
Heat the canola oil in a large pot over high heat.
Drop 2-3 kernels in the bottom of the pot. Once those kernels have popped add the remaining 1/3 cup of popcorn kernels.
Place the lid on the pot and allow the kernels to pop. Once the popping has stopped, remove from heat.
Pour the melted butter and nutritional yeast over the popcorn and toss to coat.
Applesauce oatmeal raisin cookie recipe
Makes 36 cookies
Cookies don't have to be junk food if you make them the right way! These applesauce oatmeal raisin cookies are much healthier than your average cookie.
Ingredients:
1/2 cup granular sugar
1/2 cup butter, softened
1/2 cup brown sugar
1/2 cup applesauce
2 eggs
2 teaspoons vanilla extract
1 teaspoon baking soda
1 teaspoon cinnamon
1/2 teaspoon salt
3 cups old-fashioned oats
1-1/2 cups whole wheat flour
1 cup raisins
Directions:
Preheat the oven to 350 degrees F.
In a large bowl, cream together the butter and granular sugar. Add in the brown sugar and applesauce and mix to combine. Then mix in the eggs and vanilla extract.
In a separate bowl, combine the baking soda, cinnamon, salt, oats and flour.
Slowly mix the dry ingredients into the wet ingredients until all ingredients are well incorporated.
Use a spatula or wooden spoon to fold in the raisins.
Drop the dough in rounded spoonfuls onto an ungreased cookie sheet, approximately two inches apart.
Bake the cookies at 350 degrees F for 10-12 minutes until light brown. Allow the cookies to cool slightly, then remove them from the cookie sheets.
More healthy treats
Vegan apple cranberry power cookies
Gluten-free double chocolate chip cookie recipe
Blended red berry sorbet recipe