Peaches and cream donuts with raspberry glaze
Homemade donuts that utilize perfectly pureed peaches and colorful berries will surely be a hit at your next family breakfast! Don't have a donut pan? Don't worry! Just bake these into donut holes by using a muffin pan instead!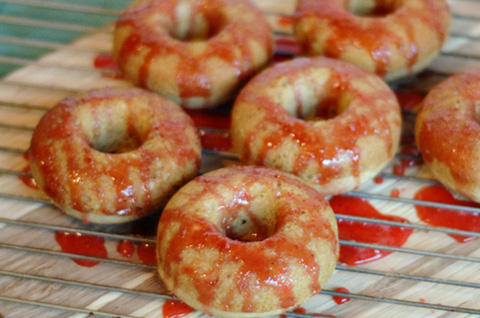 Peaches and cream donuts with raspberry glaze
Makes 6 donuts
Ingredients:
1 cup flour
1 teaspoon baking soda
1/4 teaspoon salt
1/3 cup sugar
2 whole eggs
1/4 cup peach puree baby food
2 tablespoon cream
1/2 teaspoon vanilla extract
1 cup fresh raspberries
1 cup powdered sugar
Directions:
Preheat oven to 375 degrees F.
In a bowl whisk together the sugar, eggs, peach puree, cream and vanilla.
Gently stir in the flour, baking soda and salt just until combined.
Spray a 6-donut pan with nonstick spray and evenly fill each donut mold with the batter.
Bake for 8-10 minutes until just done.
Let cool for 2-3 minutes, then remove the donuts from the pan and let cool completely before drizzling with glaze.
For the glaze, puree the raspberries in a food processor.
Strain through a fine mesh colander to remove the seeds, then stir in the powdered sugar until combined.
Drizzle on top of the donuts when they are completely cooled.
More fabulous donut recipes
Alice's famous cake doughnuts
Whole wheat cinnamon sugar donut holes recipe
Homemade yeast doughnuts with fresh fruit glaze