Beer sausage hoagies with peppers
Beer sausages and peppers make the perfect hoagie for dinner!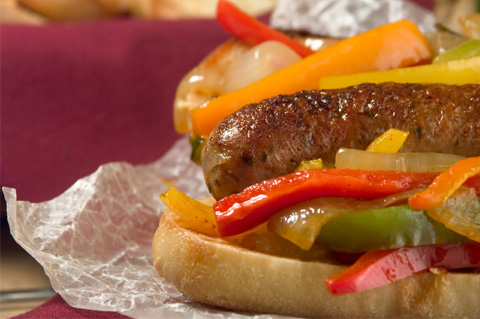 Beer sausage hoagies with peppers
Serves 4
Little kids love hot dogs, but these delicious beer sausages are the hot dogs of choice for kids of all ages! The beer flavors the sausages beautifully, and the alcohol cooks out so you do not have to worry about serving this to kids. These beer sausages are so yummy and so easy to make, you might find yourself making them for every cookout, as well as all football season long!
Ingredients:
1 tablespoon extra virgin olive oil
1 package brats or Italian sausages of your choice (if entertaining, figure on two per person, at least)
2 large white onions, sliced into long strips
1 large red bell pepper, sliced into long strips
1 green bell pepper, sliced into long strips
1 beer of your choice (I used a SweetWater IPA beer)
Hoagie buns
Directions:
In a large pot with a lid, coat the bottom of the pot with olive oil.
Add the sausages and cook until they are browned.
Remove the sausages, and add the onions and peppers. If more olive oil is needed, add it here. Cook until the onions are translucent.
Return the brats back to the pot, and add the beer. Cook over medium heat until the beer has cooked down to a syrup, about 15 minutes.
Cut the hoagie buns open and add the mustard, then sausages, onions and peppers. Enjoy!
More Italian sausage recipes
Sausage hoagies with peppers and onions
Italian sausage and peppers
Penne pasta with Italian sausage and peppers
---
More From SheKnows Explorer
---
---