Tropical snack mix recipe
This tropical snack mix recipe is a delightful twist on a classic favorite.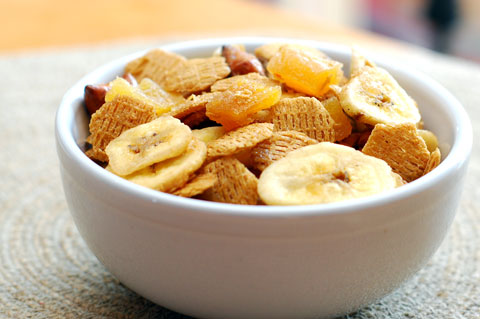 After just a few minutes baking in the oven this tropical snack mix is infused with the wonderfully tropical flavors of banana and coconut. It is the perfect combination of salty, crunchy and sweet to satisfy that afternoon snack craving or late night sweet tooth.
Tropical snack mix recipe
Makes approximately 7 cups
Ingredients:
3 cups Chex cereal
1 cup pretzels
1/2 cup macadamia nuts
1 cup dried banana slices
1 cup dried tropical fruit mix
2 tablespoons butter
2 tablespoons coconut oil
1/4 cup brown sugar
Directions:
Preheat the oven to 350 degrees F.
In a large bowl combine Chex cereal, pretzels, nuts, banana slices and dried fruit.
In a small saucepan on the stovetop, melt the butter and coconut oil over medium heat.
Add the brown sugar to the butter and coconut oil and stir constantly until the sugar dissolves completely.
Pour the sugar mixture over the Chex mixture and toss until the Chex mixture is thoroughly coated with the sugar mixture.
Pour the snack mix into a 9 x 13-inch pan and bake in the oven for 10 minutes, stirring halfway through.
Remove the snack mix from the oven and allow to cool completely before serving.
More snack recipes
Healthy road trip snacks
3 Healthy chip recipes
Homemade graham crackers