Oven-baked potato chip crusted chicken
Make your own rendition of shake-and-bake with a bag of your favorite potato chips. Potato chip crusted chicken is a fun recipe to teach your kids because it requires crushing potato chips and using your hands. Best yet, it's a family-friendly meal that can be on the table in 20 minutes.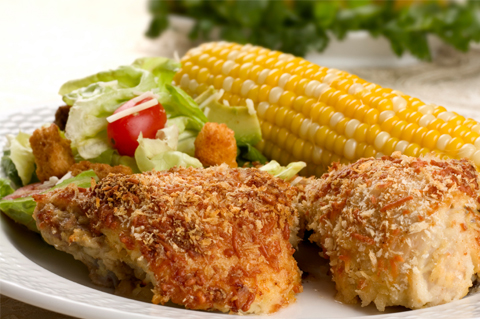 Oven-baked potato chip crusted chicken
Serves 4
Round out this chicken dinner with a side of coleslaw or a green salad.
Ingredients:
4 cups potato chips, finely crushed
Freshly ground black pepper
2 eggs
4 boneless, skinless chicken breast halves, lightly beaten to even thickness
Ranch, honey mustard dressing, barbecue sauce or another sauce of your liking
Directions:

Preheat your oven to 450 degrees F.
Place the crushed potato chips and a few grinds of black pepper in a shallow dish.
In a second shallow dish, lightly beat the eggs.
Dip each chicken breast half in egg then roll the chicken in the crushed potato chips, coating well on all sides.
Place the chicken on a large baking sheet.
Bake for 15 minutes or until the chicken is cooked through and coating is crispy and browned.
Serve hot with your favorite sauce or dressing.
More dinner recipes
Chicken cacciatore
Shredded brisket taquitos
The best fried chicken dinner