Baked pizza pasta recipe
Are your kids begging for pizza again but you and your husband want pasta? Instead of ordering both, why not combine the two? This decadent, creamy, incredibly flavorful baked pasta has all the flavors you love of pizza, like pepperoni, mozzarella and sausage served up with whole wheat rotini noodles instead of a crust!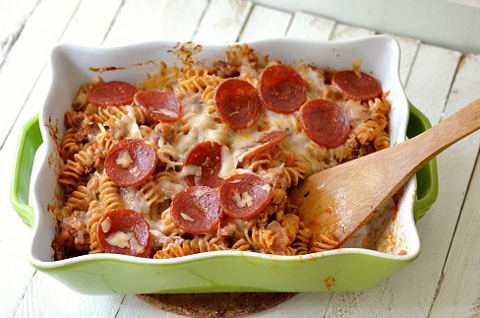 Baked pizza pasta recipe
Serves about 8
Recipe adapted from Taste of Home
Pizza flavors baked into thick and hearty pasta, really, what could be better? Plus, you can make and freeze this for up to 3 months, so it's a perfect dinner dish for those busy back-to-school weeknights. Forget pizza night, have pizza pasta night with this fabulous, kid-friendly recipe!
Ingredients:
1 pound lean pork sausage
1 tablespoon olive oil
1/2 large yellow onion, chopped
1-3/4 cups marinara sauce
Salt and pepper
8 ounces whole wheat rotini
4 ounces sliced turkey pepperoni
1-1/2 cups mozzarella
1/2 cup freshly grated Parmesan
Fresh basil for garnish
Directions: 
Preheat your oven to 350 degrees F. Grease a 3-quart (9 x 13-inch) baking dish with nonstick cooking spray and set it aside. Cook the pasta according to the package directions. Rinse and set it aside.
In a large skillet, heat the olive oil over medium-high heat. Add the onion and cook until fragrant, about 2 minutes. Add the sausage and cook until it is no longer pink, about 6 to 8 minutes. Add the marinara sauce and heat about 2 to 3 more minutes. Stir in some salt and pepper.
Mix the pasta, grated mozzarella and sausage sauce together and pour into your greased dish. Sprinkle with Parmesan cheese and sliced fresh mozzarella.
Bake the pasta for 25 to 30 minutes, or until bubbly. Serve with fresh basil and enjoy!
More pasta recipes
Cheesy lobster spaghetti recipe
Chicken and shrimp carbonara
Tonight's Dinner: Pesto chicken penne