5 Fast back-to-school breakfast recipes
Send your kids to school well-fueled for learning and playground fun with these quick and healthy, kid-friendly breakfast recipes.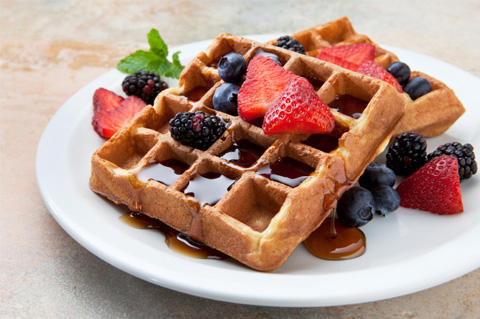 Homemade whole grain toaster waffles
Yields about 12 waffles
Set aside time on the weekend to make a large batch of waffles and keep them in the freezer for a fast and wholesome kid-friendly meal on busy weekday mornings. Though the initial prep for these waffles is time-intensive, all you have to do to serve them from the freezer is pop them in the toaster.
Ingredients:
3/4 cup rolled oats, coarsely ground in a small food processor
2-1/4 cups white whole wheat flour
3 tablespoons instant nonfat dry milk
1/4 cup granulated sugar
1 teaspoon salt
1-1/2 tablespoons baking powder
1-1/2 teaspoons baking soda
1 teaspoon ground cinnamon
2 eggs
2-1/4 cups buttermilk
3 tablespoons unsalted butter, melted
Directions:
Preheat a waffle iron.
In a large bowl, whisk together oats, flour, dry milk, sugar, salt, baking powder, baking soda and cinnamon.
In a medium bowl, whisk together the eggs and buttermilk.
Pour the buttermilk mixture and butter into the dry ingredients. Stir them until they are moistened.
Pour about 1-1/2 cups of the batter onto the center of the waffle iron and spread evenly with the back of a large spoon or spatula.
Cook the waffles according to manufacturer's directions.
Repeat with the remaining batter.
Separate a large waffle square into four smaller squares and set them on wire racks to cool completely.
Layer in an airtight freezer-safe container, separating each layer with some waxed paper.
Freeze for up to 3 months.
When ready to serve, reheat the waffles in the toaster and accompany them with some fresh fruit and yogurt.
Cream cheese and strawberry wraps
Serves 4
Whole wheat tortillas stuffed with cream cheese, fresh strawberries and toasted slivered almonds quickly come together for a delicious breakfast treat.
Ingredients:
4 (8-inch) whole wheat tortillas
6 ounces cream cheese, softened at room temperature
1-1/2 cups fresh strawberry slices
1/2 cup toasted slivered almonds
Directions:
Spread the tortillas with the cream cheese.
Scatter the strawberries and almonds overtop.
Roll the tortillas around the filling (burrito-style) and serve.
Cook's note: You can also roll up the tortillas cigar-style, refrigerate for 1 hour, then slice the wraps crosswise into spirals, which are easier to manage for little fingers.
Greek yogurt parfaits
Serves 4
If you've got granola, fresh (or dried) fruit, and yogurt on hand, you've got the fast makings of a fun and healthy selection of breakfast parfaits. This recipe features blackberries and peaches but you can swap in any combination of fresh fruits. Try kiwi and pineapple, cherries and mandarin oranges, or even apples and raisins.
Ingredients:
1-1/2 cups fresh blackberries
1-1/2 cups chopped fresh peaches
2 cups vanilla or honey Greek yogurt
1 cup granola
Directions:
In a small bowl, mix together the blackberries and peaches.
In four parfait glasses, layer the fruit, yogurt and granola.
Serve it immediately.
Funky Monkey smoothies
Serves 4
Bananas, peanut butter and chocolate are a trifecta of kid-pleasing flavors. For a thicker and frostier smoothie, freeze the bananas before adding them in the blender.
Ingredients:
3 large ripe bananas, broken into chunks
1/4 cup natural peanut butter
1-1/2 cups Greek yogurt
1/3 cup chopped dark chocolate or cocoa nibs
1 cup milk
Directions:
Combine all of the ingredients in a blender and puree.
Pour into four glasses and serve.
Almond butter and smashed fruit sandwiches
Serves 4
Compared to high-sugar jelly, fresh fruit reigns supreme with its naturally-sweet, antioxidant-rich superfood status. Simply smash ripe fruit and spread it on bread in place of jelly or jam to boost the nutrition of the usual NB&J sandwich.
Ingredients:
1-1/2 cups soft fresh fruit, such as berries, peaches or bananas
Honey, to taste
1/3 cup almond butter
8 slices whole grain bread
Directions:
In a small bowl, use the back of a fork to smash fruit into a spreadable consistency. Sweeten with honey, if desired.
Spread almond butter on four slices of bread. Spread smashed fruit on the remaining four slices of bread.
Put the sandwiches together, slice in half and serve.
More kid-friendly breakfast recipes!
The best kid-friendly breakfast recipes
Breakfast ideas for busy school mornings
6 Breakfasts kids can make themselves