Hash brown brunch cups
Potatoes in a cup? It does not get any better than that!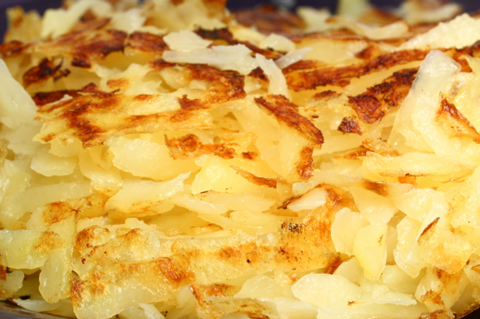 Hash brown brunch cups
Serves 12
In the South, we love our potatoes. Hash browns and hash brown casseroles are as common on a table as a fork and a knife! Try this fun, old twist to hash browns and make them in muffin pans to serve your eggs in a unique dish! These are the perfect dish to use for a brunch as they are simple to make and elegant to look at -- your guests will love these potatoes.
Ingredients:
1 (20 ounce) bag of frozen hash browns, thawed
1 (8 ounce) bag of shredded cheddar cheese
1 teaspoon black pepper
1/2 teaspoon cayenne pepper
1/2 teaspoon ground cumin
Directions: 
Mix the hash browns, cheese and seasonings together in a large bowl.
Grease the muffin pans with vegetable shortening.
Using an ice cream scoop (or spoons), scoop the mixture into the muffin pans and pat up the sides and into the bottoms.
Bake at 375 degrees F for 30 minutes.
If desired, add your favorite scrambled egg mixture and pour it into the hash brown cups after about 15 minutes of baking and bake for another 15 to 20 minutes until the eggs are done.
More brunch ideas