Roasted strawberry and peach cobbler
Take the traditional cobbler one step further by adding roasted strawberries and roasted peaches to the mix. Not only does the roasting step bring out the incredible flavor, but a flavorful crumble topping makes for the ultimate cobbler.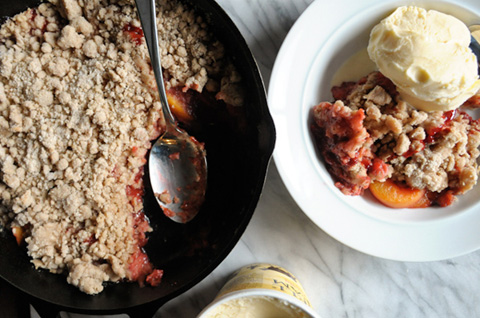 Roasted strawberry and peach cobbler
Serves 6
Ingredients:
3 cups fresh or frozen strawberries, hulled
3 cups fresh or frozen peaches, sliced
1-1/4 cups plus 2 tablespoons flour
3/4 cup granulated sugar, divided
5 tablespoons butter, melted
2 tablespoons milk
1 teaspoon cinnamon
Directions:
Preheat your oven to 400 degrees F.
Spread the fruit out on a sheet pan sprayed lightly with nonstick spray.
Roast for 20 minutes, stirring halfway in between.
Remove the fruit from the oven and reduce the heat to 375 degrees F.
While on the sheet pan, stir in 1/4 cup of granulated sugar and 2 tablespoons of flour.
Lightly spray an oven-safe dish or cast iron skillet with nonstick spray and pour in the fruit and the juices.
In a large bowl, whisk together the remaining flour, remaining sugar and cinnamon.
Add the melted butter and milk and stir to combine. (The mixture will be crumbly.)
Pour evenly on top of the fruit.
Bake for 30-35 minutes or until the top is browned and the fruit is bubbly and hot.
Let the cobbler stand for 10 minutes before serving it with some ice cream.
More delightful cobbler recipes
One skillet peach cobbler recipe
Blackberry cobbler
Cherry apple cobbler