Popcorn shaped cake pop recipe
You're having movie night with your family and are in need of a tasty snack. Sure, you could grab a bag of good ol' salty popcorn and call it a night, but where's the fun in that? Instead of the same ol' snack for your family night, why not enjoy some cake pops instead? These popcorn shaped pops look exactly like those buttery kernels you love, just with a much sweeter aftertaste!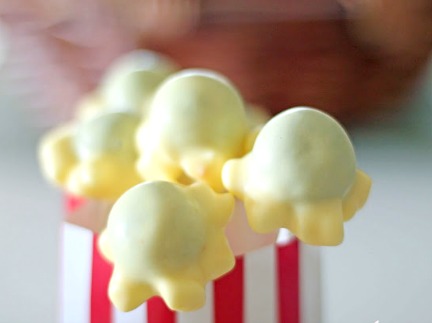 Popcorn shaped cake pops
Yields about 12 pops
Recipe adapted from Cupcake or Two
Soft, moist vanilla cake dipped in sweet white chocolate candy -- you really can't get much better than that. Serve these at your next movie night, kid's birthday party or holiday event! These unique little pops will have your guests in awe!
Ingredients:
1 pre-made vanilla cake
About 1 cup of frosting
Bag of white candy melts
Bag of mini marshmallows
Yellow food coloring (powder is easiest)
Lollipop sticks
Directions: 
Once your cake has cooled, tear it up into small pieces. Place into a large mixing bowl. Mix the cake with the frosting using your hands until mixture is moistened.
Carefully roll pieces of the cake mixture with your hands to make 1-1/2-inch circular balls.
In a microwave safe bowl, melt about 1 tablespoon of white candy melts for about 60 seconds, stopping at 30 seconds to stir the mixture. Dip the ends of each lollipop stick into the melts and stick them into the cake balls. Add a dollop of extra candy melt to ensure the cake ball stays on the stick. Freeze balls for about 15 - 20 minutes or until they are firmly on the lollipop stick.
Once the cake balls are firmly set on the sticks, remove from the freezer. Melt the remaining candy melts and stir in the yellow food coloring until just faintly yellow (you want it to look like lightly buttered popcorn). Dip the edge of a mini marshmallow into the candy melt and attach to the cake ball. Repeat until the bottom rim of the cake ball is surrounded with marshmallows. Freeze each ball for about 1 minute or until they set.
Carefully dip the cake/marshmallow balls into the light yellow melts until fully covered. Hang the balls over the melts to drip off the extra covering. If you need to, smooth over the dip with a spatula. Re-freeze the pops for about 15 minutes or until the chocolate is set. Then serve up and enjoy!
More cake pop recipes
Lamb shaped cake pops for Easter
4th of July cake pop recipe
Get well bear cake pop recipe