No bake peanut butter bars recipe
When you're juggling work, a family and picky kids, the best recipes are the ones you can make in a snap and require no baking or cooking! These peanut bars are one of those easy recipes. Not only do these bars not require an oven, they are made with all healthy and organic ingredients. A quick snack that's also good for your family? Sign us up!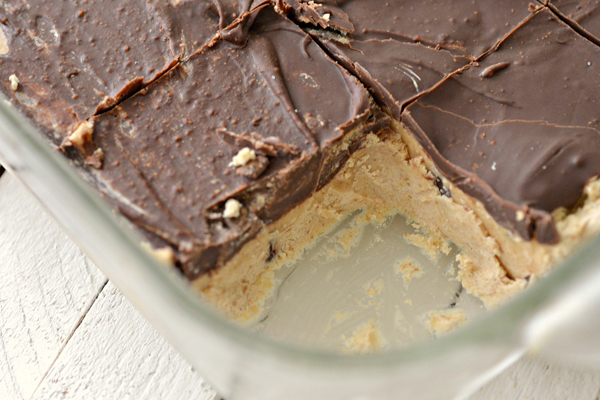 No-bake peanut butter bars recipe
Yields about 2-1/2 dozen bars
Recipe adapted from Very Best Baking
Our favorite thing about this recipe is the luscious chocolate topping. Each bite is filled with hearty, peanut buttery goodness and rich, dark chocolate. When you make this, you'll want to triple the recipe since they will go fast!
Ingredients: 
1 cup organic peanut butter, divided in half
1-1/2 cups honey graham cracker crumbs
1 cup powdered sugar, divided
1 cup organic dark chocolate chips
1 teaspoon vanilla
1/3 cup softened butter
Dash of salt
Directions:
Grease an 8 x 8-inch glass baking dish with nonstick cooking spray and set it aside.
In a medium size mixing bowl, beat 3/4 cup of peanut butter and butter with an electric mixer until creamy and well mixed. Add in the powdered sugar (1/4 cup at a time), beating well after each addition. Add in the vanilla and mix well.
Using a wooden spoon, mix in the graham cracker crumbs and 1/4 cup of the dark chocolate chips. Add a dash of salt. Press the mixture into the pan and smooth over with a spatula.
In a medium saucepan over low heat, melt the remaining 1/4 cup of peanut butter and 3/4 cup of dark chocolate chips. Once melted, carefully pour over the graham cracker crust and smooth over with a spatula. Chill for an hour at least and cut into bars.
More no-bake recipes
No-bake icebox cakes
3 Low-fat no-bake desserts
Easy no-bake cheesecakes