No-bake vegetable lasagna recipe
As the temperature rises in the summer you don't even want to think about turning on the oven. But that doesn't mean you should have to miss out on lasagna! This no-bake version of lasagna is light while still being filling -- no oven required.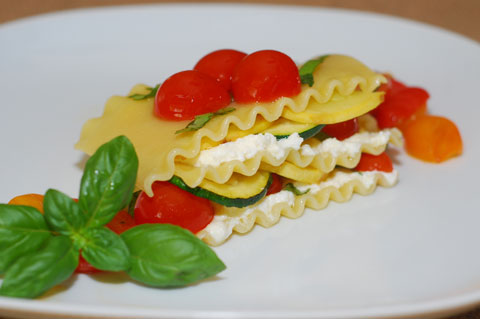 No-bake vegetable lasagna recipe
Serves 4
Ingredients:
8 lasagna noodles, broken in half crosswise
1/2 cup ricotta cheese
1/4 cup Parmesan cheese
3 tablespoons extra virgin olive oil, divided
2 cups cherry or grape tomatoes, halved
1 clove minced garlic
2 tablespoons chopped basil
1 medium zucchini, thinly sliced
1 medium summer squash, thinly sliced
Directions:
Boil a pot of water on the stove and cook the lasagna noodles according to the package directions. Then drain.
In a medium bowl, combine the ricotta cheese, Parmesan cheese, and 1 tablespoon of extra virgin olive oil, and set it aside.
Heat the remaining 2 tablespoons of extra virgin olive oil in a large skillet. Once the oil has warmed, add in the tomatoes and garlic, and sauté until the tomatoes are tender. Transfer the tomatoes to a bowl, toss in the chopped basil and set aside.
Add the zucchini and summer squash to the skillet and sauté until the vegetables are tender. Remove the vegetables and set them in a bowl.
Get out four plates, and place a lasagna noodle on each plate. Spoon some ricotta mixture on top of the noodles and top the ricotta with tomato, basil, zucchini and summer squash. Repeat the layering twice, and then top with the remaining noodles. Garnish with extra tomatoes and basil, if desired.
More dinner recipes
Summer tomato and ricotta calzone
Hawaiian quesadilla recipe
Grilled corn and black bean pizza recipe
---
More From SheKnows Explorer
---
---