Easy summer appetizers: Stuffed cucumber recipe
Cucumbers are so crisp and refreshing this time of year, which makes these stuffed cucumbers the perfect appetizer to make for your next summer party. No need to heat up the oven to make these cool treats, and this easy summer recipe can be whipped up in under 10 minutes!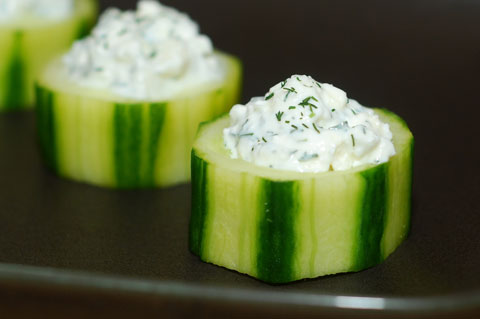 Stuffed cucumber recipe
Makes 12-15 appetizers
Ingredients:
1 large English cucumber
3/4 cup crumbled feta cheese
1/4 cup sour cream
1/2 teaspoon dill
Directions: 
To make the filling, combine the feta cheese, sour cream and dill in a bowl and set it aside.
Peel the cucumber and slice it crosswise into 1-inch sections.
Use a melon baller to hollow out the center of each cucumber section. Evenly divide the filling among each of the cucumber sections, chill and serve.
More appetizer recipes
3 Easy no-bake appetizer recipes
Easy appetizer: Veggie roll-ups
6 Simple and yummy cheese appetizers