Grab-and-go breakfast faves
When school mornings feel more like frenzied chaos than leisurely prep time, something's bound to give. Don't feel bad about skipping your sit-down breakfasts! Just make sure you have these grab-and-go breakfast faves ready to pass out to your clan. You can all get fueled on the way to school!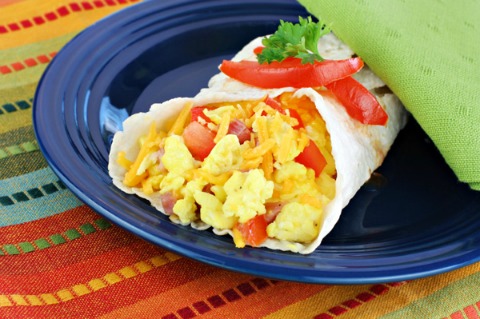 Breakfast on bread
Sandwiches are fast, low-mess and easy to make, so why not whip up a few breakfast sandwiches before running out the door? Peanut butter and banana on whole grain toast is a kid-pleasing, go-to option, but don't be confined by basic bread and toppings. Try whole-wheat pitas, whole-grain wraps, toaster waffles, English muffins, flat bread or bagel thins. Add eggs, cheese, fruits and veggies to create your own perfect pairings. For instance, if your kids are in the mood for something sweet, try spreading a toaster waffle with vanilla-flavored Greek yogurt and fresh berries before topping with a second waffle. Wrap the sandwich in a paper towel for mess-free eating! For a more savory breakfast sandwich, scramble a few eggs with cheese, sausage or bacon pieces, spoon into several whole-grain wraps, drizzle with fresh salsa, and wrap into breakfast tacos. Secure with tin foil wrappers to prevent the tacos from dripping for the perfect car-friendly breakfast.
Breakfast in a travel cup
Sippable meals are a great option, because travel mugs are so easy to take on the bus or in the car. Skip the premade breakfast shakes and smoothies in favor of a homemade version that only takes a few minutes to make. While the combinations of flavors are practically endless, we like versions that add veggies to the mix. You may be skeptical, but we promise, you (and your kids!) won't be able to taste the difference. Give this version a try:
Ingredients:
1/2 avocado
1 cup plain Greek yogurt
2 cups fresh spinach
1 banana
2 cups berries of your choice (frozen if you like your smoothies cold)
100% cranberry juice (add until you achieve the desired consistency)
Directions:
Add all of the ingredients except the cranberry juice to a blender and begin blending. Add cranberry juice as necessary to achieve the desired consistency — use less if you like your smoothie thicker, more if you like it thinner. When the drink is smooth, just pour and go!
Breakfast in a baggie
Maybe you don't have time to sit down at the table for a bowl of cereal, but what's stopping you from taking your cereal to go? Just fill a plastic baggie with a serving of your favorite cereal, granola or trail mix and supplement your breakfast with a single-serve carton of milk, like Horizon Organic's Lowfat Plain milk box. You may not be able to mix the cereal and milk like you do in a bowl, but you can wash down the crunch of each bite with a creamy swig from the carton! Round out your meal with an apple or a second baggie of dried fruit pieces for the perfect transportable meal.
Breakfast made ahead
If your mornings are especially hectic, and the thought of even preparing a sandwich or smoothie seems like too much to ask, try spending 30 or 40 minutes on a Sunday evening preparing homemade muffins, breakfast bars or even mini frittatas that you can wrap up and store in the fridge for the week. Sure, you can buy these items at the store, but they'll be packed with preservatives and miscellaneous ingredients that you may not want to serve to your kids. Just about any healthy, fiber-filled recipe will do, but we're especially fond of these almond-honey power bars and mini frittatas with ham and cheese.
Discover more breakfast ideas
Deconstructed cereal breakfasts
Breakfast recipes to celebrate the first day of school
Breakfast recipes to boost brain power