Teaching kids to make healthy lunch line decisions
Hamburgers, pizza and cookies, oh my! How can healthier options compete? It's not easy to teach your children to make healthy lunch line decisions, but a little time and effort can pay off in the end.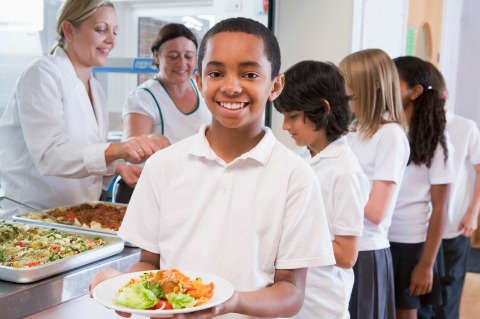 Set an example at home
You can't expect your children to make healthy decisions at school if you're not setting a good example at home. Frozen dinners, pizza nights and fast food are fine on occasion, but it's important that occasional treats don't start taking over your weekly menu. Make sure you're picking up and preparing whole foods for your children on a regular basis while staying away from sodium- and preservative-laden freezer fare or fast foods.
Teach while you eat
When serving meals to your family, use the opportunity to educate them on the importance of healthy fare. Explain to your children that foods are fuel for the body, and nutrient-rich foods will help keep them energized for all their daily activities. If you have a little athlete on your hands, explain that foods loaded in saturated fats could slow them down during their after-school games, while sugar-laden sweets may leave them drained of energy by the time practice starts. Have a little Einstein or future Beethoven in your midst? Explain that vitamins and minerals found in healthy foods will keep their brains sharp and neurons firing during science club or piano lessons. When kids understand the positive effects of healthy foods and the negative effects of unhealthy foods, they'll have the fundamental knowledge required to make smarter lunch line decisions.
Do some research
As the parent, it's very important for you to educate yourself on your child's school lunch program. Some schools only offer a hot lunch, a cold lunch and various drinks, while other schools offer everything from fast food to fried chicken and pizza on a daily basis. Knowing what your child is up against every time he walks into the cafeteria will help you equip him to make better decisions. Also, make sure you look into the school's lunch plans to see whether there are ways to designate which meals your child is allowed to choose from. If you pre-pay for school lunches, see whether you can set a daily limit on money spent. Sometimes the most tempting meals are priced at a higher rate, so limiting the amount spent could help steer your child toward the meals you'd like him to choose.
Open up the discussion
Once you know what the options are, make a point of sitting down with your child each week to talk about what's on the school's upcoming menu. Point out the healthiest meals and discuss whether they sound appealing. If the healthiest option for Tuesday is fish, but your child hates seafood, there's no point in insisting that she choose that meal. Offer to pack a lunch or ask if there's something else on the menu that sounds appealing. If she'd rather eat pizza that day, you don't have to argue the point — just ask if you can send along cut veggies or a piece of fruit to help balance the meal, and then steer her toward healthier lunches the rest of the week. The point here is not to make foods completely off limits, but to help equip your child to make the healthiest choices by planning ahead.
Keep talking
Not lecturing, talking! Regularly ask your children what they ate for lunch that day. Ask how they felt during the afternoon, whether they were energized or sluggish. Ask whether the food tasted good. Ask if they're still happy purchasing lunch at school or if they'd like to take a lunch from home. All of these conversations will help them think about and process the lunchtime decisions they're making. If a lunch of chicken fingers, gravy and French fries made them feel sick during basketball practice, suggest that they try something like a peanut butter sandwich on whole wheat bread instead. If the Frito pie was mushy and flavorless, you'll both be prepared to rethink that decision the next time it pops up on the menu.
Learning to make healthy lunch line decisions will probably take your children about 12 years to master, but if you start early and keep the conversation going (without guilt!), you'll give your children the tools they need to make healthy lunch decisions for a lifetime.
Start school days right with a good breakfast
Deconstructed cereal breakfasts
Breakfast recipes to celebrate the first day of school
Breakfast recipes to boost brain power