Crunchy homemade oatmeal cereal squares
You are only seconds away from a delicious and filling breakfast cereal made entirely from scratch! Serve this cereal with milk and berries for a filling and nutritious breakfast you can feel good about giving the entire family.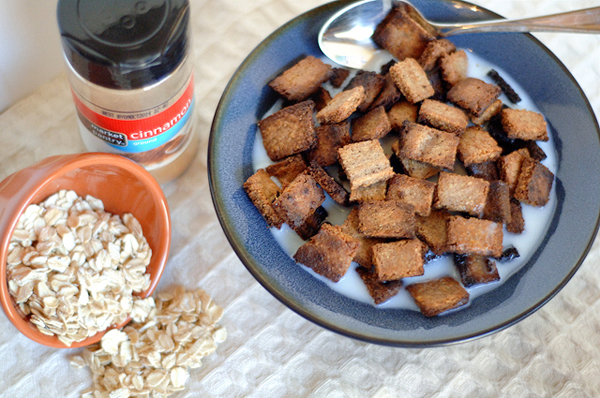 Crunchy homemade oatmeal cereal squares
Makes 2 servings
Ingredients:
1-1/4 cups old-fashioned rolled oats
3/4 cup water
2 tablespoons brown sugar
2 tablespoons vegetable oil
2 tablespoons milled flax
1 tablespoon vanilla extract
1 teaspoon cinnamon
1/4 teaspoon salt
Pinch of nutmeg
Directions:
Preheat your oven to 375 degrees F.
In a food processor, fitted with a steel blade, process the oatmeal until it becomes a fine flour.
In a large bowl whisk together the water, brown sugar, oil, flax, vanilla, cinnamon, salt and nutmeg.
Whisk in the oatmeal flour until combined.
Pour onto a 9 x 13-inch sheet pan lined with parchment paper.
Bake for 17 minutes.
Carefully remove from the pan using the parchment paper.
Let cool for 1 minute and then cut into 1/2-inch squares using a sharp knife or a pizza cutter.
Let cool another 5 minutes.
Break into pieces and return them to the pan.
Heat your oven to 400 degrees F.
Bake the broken squares for 10-15 minutes until golden brown and crunchy.
Let cool completely before serving.
More delicious cereal recipes
Beyond breakfast: Creative cereal recipes
Raisin Bran cereal muffins
Swiss Miss cereal recipe