Deconstructed cereal breakfasts
Bored with your breakfast cereal? Give your morning a new twist with these fresh takes on cereal breakfasts.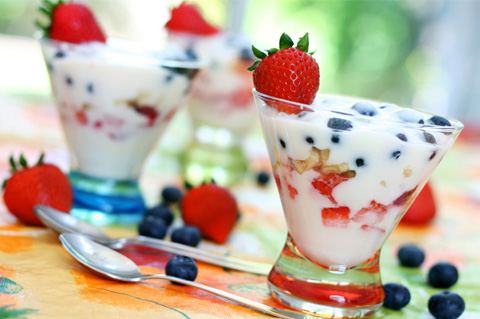 There's a new trend in gourmet eating, and it sounds messier than it really is. Deconstructed food isn't about throwing your dinner all over the table or decorating the drapes with the leftovers of your lunch (although our busy toddlers might disagree). Instead, it's about rethinking traditional meals in a unique new way. Take the same ingredients, rearrange them, and voila! Your meal is transformed.
So if your breakfast cereal is bringing you down, you are in for a treat. Check out our deconstructed cereal breakfasts for a refreshing twist on your morning meal.
Granola bites
Love granola? Then you are sure to fall in love with granola bites. Just gather 2 cups quick oats, 1/2 cup rice cereal, 1/2 cup brown sugar, 1/2 cup currants, 1/3 cup coconut, 1/2 cup oil, 1/4 cup honey and 1/3 teaspoon salt, and mix all the ingredients together with your hands. Form it into balls the size of a mini-muffin. Place on a parchment-lined baking sheet and bake at 350 degrees F for 12 minutes. Portable perfection!
Polenta fingers
Transform your corn flakes into a creative morning treat. Simply cook up a batch of polenta and spread it on a parchment-covered baking tray so that the polenta is 1-inch deep. Put it in the fridge to cool and harden. The next morning, remove it from the fridge and cut it into 3-inch long, 1-inch wide fingers. Pan fry the fingers in butter on both sides until browned. Sprinkle with cinnamon sugar and serve warm.
Mochi madness
Mochi is sweet brown rice that's been pounded into dense bars. You can find it at your local natural grocer in the freezer section. Just cut it into squares and place it on a baking tray for 10 minutes at 400 degrees F, and it will puff up almost like a cream puff. Serve it with a drizzle of dark chocolate, honey, maple syrup or jam.
Yogurt parfait
Take your breakfast cereal to the next level with gourmet yogurt parfaits. Fill clear glasses with a scoop of vanilla yogurt and fresh berries or a dollop of fresh fruit jam. Sprinkle your favorite breakfast cereal on top and enjoy!
Banana oat pancakes
Give your morning bowl of oatmeal a makeover with this yummy recipe for banana oat cakes. Mix together 1 cup oats, 1 cup milk, 1 cup mashed banana, 2 eggs and 1 teaspoon vanilla extract. Drop heaping tablespoons onto your hot griddle and cook well on both sides. Serve the pancakes with sliced bananas, a drizzle of honey and a sprinkling of crushed almonds.
Horchata
Rice cereal gets a racy reinterpretation! Horchata is a traditional Mexican drink that appeals to kids and adults alike. To make your own yummy horchata drink, toss 1 cup cooked rice into your blender with 2 cups milk, 1 teaspoon cinnamon, 1 pinch nutmeg and 3 teaspoons sugar. Blend on high until smooth
Discover more breakfast ideas
Breakfast recipes to celebrate the first day of school