Dash and dine dinners for busy nights
Football, baseball, art class, ballet, homework… did you say dinner? If dinnertime gets lost in the shuffle on busy family nights, don't despair. Before you head for that drive-thru, take a peek at our roundup of delicious dash-and-dine dinners for busy nights.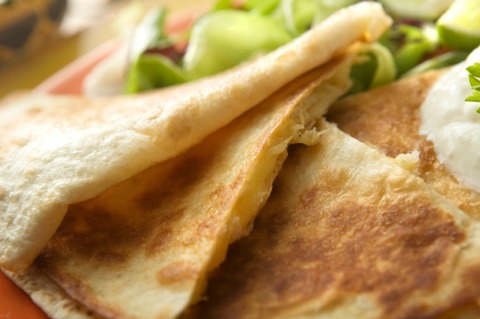 Crock-Pot classics
If you are nowhere near your house until five minutes before dinnertime, the Crock-Pot is your new best friend. You can make healthy and delicious family dinners that practically cook themselves. Whether you want to make meats, stews, tacos, veggies, casseroles or even dessert, Crock-Pot cooking is guaranteed to be a hit with your family.
Quick quesadillas
Turn your leftovers into a gourmet meal in minutes with nothing but a pile of fresh tortillas. Fajita meat, barbecue chicken, pulled pork, Greek doner kebabs, grilled veggies — the possibilities are endless! Try experimenting with different meat, cheese and veggie combos for a fresh take on the quesadilla.
Sassy salads
Another simple and easy dinner is the build-your-own salad bar. This will take some preparation ahead of time, but (gratefully!) it doesn't have to be done right before dinner. Wash and cut up a variety of yummy veggies like broccoli, baby carrots, snap peas, cucumbers, celery and tomatoes and place them in airtight containers in the fridge. Grill up pieces of chicken, cut them into thin slices, and store. Other tasty tidbits to have on hand? Try feta cheese, blue cheese, brown sugar pecans, sliced almonds, mandarin oranges and dried apples. When it's time to eat, just line up all the fixings and let everyone design their own sassy salad. Nom nom.
Serious sandwiches
If you've got a panini grill, you can make serious sandwiches in seconds. Need some ideas to get your creative juices flowing? Try ham and apple grilled cheese, chipotle turkey club, grilled red pepper pimento, bacon and pear, Philadelphia cheesesteak or spicy chicken fajita. Are you hungry yet?
Radical rice bowls
Rice cookers can save you tons of time in the kitchen. Just pour in the rice and water ahead of time, set the timer, and go. Whether you prefer brown or white rice, you'll have perfect results every time. The best part? Almost anything tastes amazing over rice. Some of our faves? Thai chicken and basil stir fry, lamb and broccoli, scallops in sherry-garlic sauce, and balsamic glazed salmon fillets. Try your favorite toppings over rice for a fast and easy dinner on the go.
Perfect polenta
Let your imagination be your guide when cooking with polenta. This amazing comfort food can be the base for many tasty dishes. Prepare your polenta ahead of time, so you can heat it up fast during the dinnertime rush. You can eat it soft like porridge or fry it into wedges. Top with any number of sauces, meats, cheeses or herbs and dinner is served!
More healthy eating tips
Breakfast recipes to boost brain power