Dairy-rich snack ideas
It's important to make sure all of your meals have plenty of dairy, but it's a good idea to have a snack each day that's packed with dairy, as well. Dairy provides calcium, potassium, protein and phosphorus, so fit as much of it as you can into each day by indulging in these dairy-rich snacks.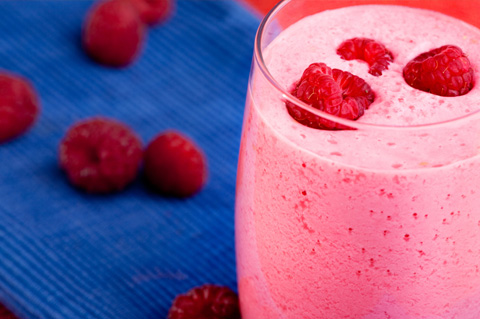 Cottage cheese
Cottage cheese is a great snack on its own, but turn it into a sweet treat by topping it with fruit. Strawberries, blueberries, peaches and pineapples are delicious mixed into a bowl of cottage cheese. If you're craving something a little more savory, try topping it with tomato.
Serve up a smoothie
Blend yogurt, ice and all of your favorite fruits for a cold and creamy smoothie treat. It's refreshing, and filling enough to hold you over until another meal.
Add some yogurt
Pour yogurt into popsicle molds for a frozen yogurt popsicle. If you would rather have bite-sized treats, use an icing bag (or a sandwich bag with a corner snipped off) to squirt small drops of yogurt onto a cookie sheet lined with wax paper. Freeze them for a few hours, and then pop them off of the wax paper and into a freezer-safe container for bite-sized frozen yogurt treats.
Prepare a parfait
A yogurt parfait is great for any time of the day! Layer yogurt, granola and fruit in a bowl, then eat it right away or save it for later. One of the best things about this dish is how versatile it is. Use plain or vanilla yogurt, and add any type of fruit or combination of fruit you like. You can use fruit that's fresh, frozen or canned. Make a big parfait to serve as a main dish, or a smaller one to serve as a side. Anything goes, so give it a try.
Peaches and cream
Fill a bowl with peeled, sliced peaches, top with vanilla milk, and microwave until warm for a treat that'll leave you feeling all warm and cozy. If peaches aren't in season, use frozen or canned — this dish will still be delish!
Seafood spread
Mix a can of salmon, tuna or crab meat with ricotta cheese and spread it on whole-wheat crackers or pita bread.
Yogurt fruit dip
Add a spoonful of honey to plain or vanilla yogurt and use it as a dip for bite-sized fruit.
Muffin melt
Melt a slice of cheddar or American cheese over half of an English muffin topped with ham.
Cheese and crackers
Cheese and crackers make up a versatile snack that can be tailored to anyone's tastes. Prepare a plate of your favorite crackers and cheese slices, then mix and match to find your favorite combination.
Make a milkshake
It's always the perfect time for a milkshake! Combine your favorite flavor of ice cream with milk, and then add chocolate, strawberries, peanut butter, bananas or any other flavors you like and blend until smooth.
More healthy eating tips
Breakfast recipes to boost brain power