Double the dairy in your child's lunch
A nutritious lunch will provide your kids with the fuel they need to finish the day in top form. To pack the healthiest lunch you can, include plenty of dairy. Dairy provides calcium, potassium, protein and phosphorus, so double up on this precious resource for your little ones.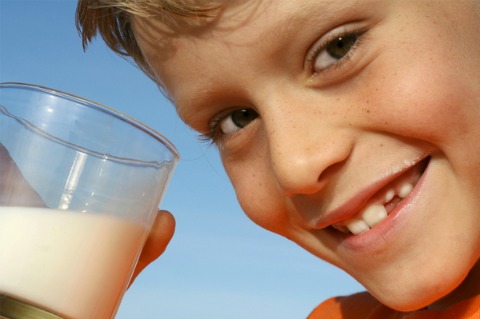 Say "cheese!"
Whether you're stacking a sandwich, rolling a wrap or stuffing a pita, add cheese. It's an easy way to add an extra serving of dairy to your kid's lunch. Plus, everything tastes better with a little bit of cheese!
Cheese also works great as a sandwich or a side dish, so include a cheese stick to munch on. You can also cube any type of cheese your child likes and add it to his lunch along with some crackers.
Add some yogurt
Yogurt is a great way to get an extra serving of dairy, because it boosts immunity and digestion, along with a whole host of other benefits. Providing single-serving cups of yogurt and a spoon is the easiest way to serve it, but it's not the only way. Try the squeezable packets of yogurt for an added fun factor and to avoid the need for a spoon, or pack yogurt-dipped pretzels or fruit for a protein-packed snack.
Prepare a parfait
A yogurt parfait is a fun way to get a little fancy with your kid's lunch. Layer yogurt, granola and fruit in a bowl, and then freeze it. Add it to the lunchbox frozen, and it'll be perfectly thawed, but still chilled, when lunchtime arrives. One of the best things about this dish is how versatile it is — you can totally tailor it to your child's tastes. Use plain or vanilla yogurt (even flavored, if that's what they'll eat), and add any type of fruit or combination of fruit you like. You can even use fruit that's fresh, frozen or canned. Make a big parfait to serve as a main dish, or a smaller one to serve as a side. Anything goes, so give it a try!
Cream cheese
Cream cheese is a delicious source of dairy, and most kids love it. You don't have to serve it up on a bagel — it works well as dip, too! Serve a small container of cream cheese with carrots, apples, celery or pretzels for dipping, and add a baggie of raisins to sprinkle on top.
Make them drink milk!
The simplest solution to a lack of dairy is to add more milk. If you have a way to keep it cold, add milk to your kid's lunchbox. Serve it in a prepackaged box or jug, or pour some into a thermos. If you don't have a way to keep it cold, pack shelf-stable milk boxes, or give them change to buy it from the cafeteria
More healthy eating tips
Breakfast recipes to boost brain power
Teaching kids to make healthy lunch line decisions
.