Smoothie recipes to make mornings easier
Smoothies are sweet, filled with nutrients and a great way to start your day. Since the thick breakfast beverage is so similar to a shake, your kids will think they are getting fast food for breakfast. Shh -- we won't tell if you don't.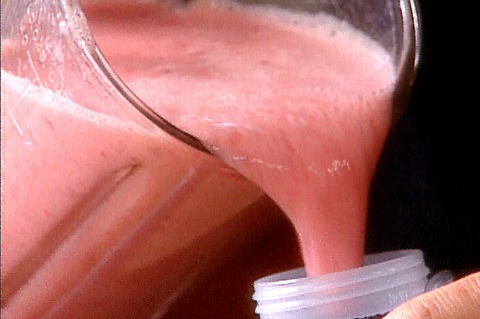 Smoothie tips
Smoothies are usually a combination of dairy and fruit whirled in the blender with ice until the ingredients mix into a smooth, creamy concoction. The following tips will make your smoothies even better.
Keep the fruit for a single smoothie in the freezer. When you're ready for a smoothie, just add the frozen fruit to the mixture instead of ice. Your drink will be thick, but have more intense fruit flavor.
If your kids won't eat their vegetables, a smoothie is a great way to hide them. Don't go overboard, though. A tablespoon of grated carrots, beets or even spinach will hide behind the sweetness of the fruit.
Add liquid to the blender first for easier, smoother blending.
A tablespoon or two of protein powder increases the muscle-building protein in your smoothie.
Add flax seed, bran or oatmeal for fiber — just a tablespoon or two will suffice.
It takes seconds to add a dollop of yogurt and a fresh mint leaf for garnish, but the wow factor multiplies exponentially.
Make a swirled smoothie by using two different recipes and layering them in the glass. Move a spoon from the bottom to the top of the mixture a few of times to create swirls.
Tropical smoothie
Serving size 2 large or 4 small
This tropical smoothie is full of potassium, vitamin C and vitamin A.
Ingredients:
1 mango, peeled and cut into chunks
1 banana, peeled and cut into chunks
1/4 cup fresh pineapple chunks
1/3 cup frozen orange juice concentrate
1 cup vanilla yogurt
1 cup ice
Directions:
Blend all ingredients in a blender until smooth.
Power smoothie
Serving size 4 small
When you have one of "those" days, try this high protein mix with a blast of potassium, vitamin A, vitamin C and protein. Big plus? It has compounds in it that fight aging.
Ingredients:
1/2 cup coconut water
1 cup vanilla yogurt
1 banana, frozen
1/2 cup frozen strawberries
1/2 cup papaya
2 tablespoons protein powder
1 tablespoon flax seed
Directions:
Peel the banana and papaya and cut them into chunks. Put all ingredients into a blender. Blend until smooth and thick.
The big orange
Serving size 4 small
This bright, cheerful orange-colored smoothie is a rich source of vitamin A, vitamin C and calcium.
Ingredients:
1/2 cup mango, chopped and peeled
1/2 cup peach, chopped (peel on or off, as you desire)
1/2 cup papaya, chopped and peeled
3/4 cup carrot juice
1/4 cup frozen orange juice concentrate
1/2 cup ice
Directions:
Add all the ingredients together in a blender and blend until smooth
Discover more breakfast ideas
Deconstructed cereal breakfasts
Breakfast recipes to celebrate the first day of school