Breakfast recipes to boost brain power
Proteins, complex carbs from whole grains, and nutrient-packed ingredients like nuts and dried fruit help blood sugar stay level throughout the busy morning. Start your family smart with these delicious, easy recipes.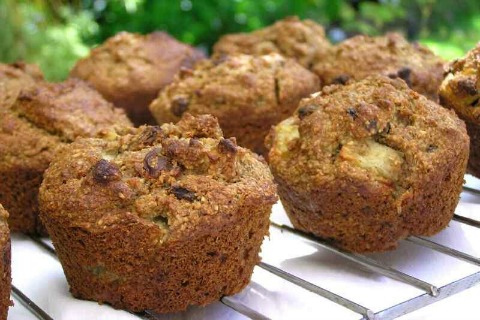 Banana bran muffins
Makes 12 muffins
Serve these sweet muffins with a smear of peanut butter for extra protein. The dark chocolate sends a lavish flow of blood to your brain and heart to help you think clearly all morning long. Make breakfast easy by doubling the batch — these muffins freeze perfectly for single-serving meals all week long.
Ingredients:
2 large eggs
1/2 cup packed light brown sugar
1 cup mashed ripe bananas
1 cup buttermilk
1 cup unprocessed wheat bran
1/4 cup sunflower oil
1 teaspoon vanilla extract
1 cup whole-wheat flour
3/4 cup all-purpose flour
1-1/2 teaspoons baking powder
1/2 teaspoon baking soda
1/2 teaspoon ground cinnamon
1/4 teaspoon salt
1/2 cup dark chocolate chips
1/3 cup chopped walnuts
Directions:
Preheat oven to 400 degrees F.
Put 12 cupcake liners in a muffin pan or spray a muffin pan with nonstick spray.
Whisk the eggs and brown sugar until smooth.
Stir in the bananas, buttermilk, wheat bran, oil and vanilla.
Mix the dry ingredients in a large bowl.
Add the wet ingredients and stir quickly until just combined.
Fold in chocolate chips and nuts.
Spoon the batter into the prepared muffin cups.
Bake the muffins until the tops are golden brown and spring back when lightly touched, 15 to 25 minutes.
Let cool in the pan for 5 minutes before serving.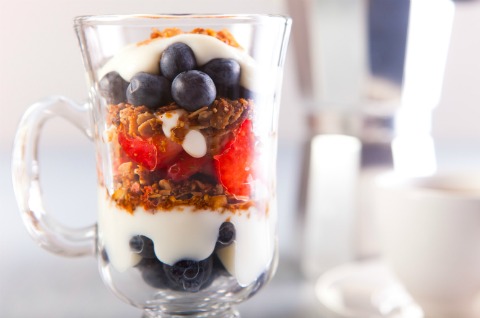 Granola yogurt parfait
Makes 8 parfaits
Yogurt contains protein and probiotics to keep your body healthy, while the granola provides energy from the complex carbs. Substitute your favorite in-season fruit for the fruit in this recipe. If you make the parfaits in jelly jars with screw-on lids, they will stay fresh in the refrigerator all week long. Add the granola to the top just before serving to keep it crunchy.
Ingredients:
4 cups vanilla-flavored Greek yogurt
1 cup blueberries
1 cup raspberries
1 cup banana slices dipped in lemon juice
1 cup of your favorite granola
1/2 cup dark chocolate shavings
Directions:
Place 2 tablespoons of the yogurt in a glass.
Top with 1/8 of the blueberries.
Add 2 more tablespoons of yogurt and follow with 1/8 of the raspberries.
Add 2 more tablespoons of yogurt and top with 1/8 of the sliced banana.
Top with 2 tablespoons of yogurt.
Sprinkle 2 tablespoons of granola and chocolate shavings on top of each parfait just before serving.
Instant brain booster
Make up several small resealable bags of this mix on the weekend. When you are in a rush and tempted to skip breakfast, grab one of these instant meals on the go. The whole grains, nuts and dried fruit will keep your brain sharp until lunch.
Just mix 1/4 cup of your favorite whole-grain cereal with 1/4 cup dried fruit, 1/4 cup chopped almonds and 1/4 cup sunflower seeds. This nutrient-dense, high-protein mix can be eaten on the run — perfect for any morning you have a time crunch
More healthy eating tips
Healthy dinner ideas to end the day right