Healthy dinner ideas to end the day right
It's easy to fall into a rut at dinnertime, but we've got ideas to spare! Get dinner on the table in a jiffy with these healthy dinner recipes that are sure to please.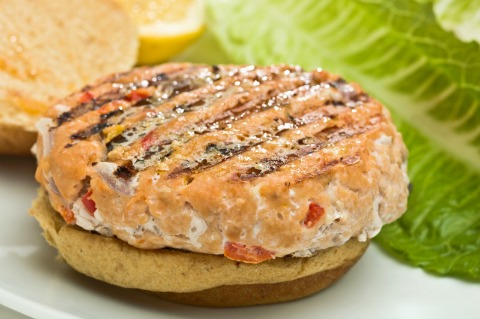 Salmon burgers
Makes 6 burgers
Salmon is one of the healthiest foods on the planet. Give your burger night a healthy makeover with this melt-in-your-mouth recipe for salmon burgers.
Ingredients:
2 pounds skinless, boneless salmon
2 tablespoons red pepper, finely chopped
2 tablespoons dill, minced
2 tablespoons red onion, finely chopped
2 teaspoons Dijon mustard
1 teaspoon fresh lemon juice
1/2 teaspoon salt
1 large egg, lightly beaten
3 tablespoons olive oil
Directions:
Put the salmon in your food processor with lemon juice and mustard. Pulse well until it forms a paste.
Remove the paste from the food processor. Add dill, red onion, red pepper, egg and salt. Mix well.
Form salmon mixture into 6 patties and place on parchment paper.
Heat a skillet on medium and fry the patties in olive oil. Cook evenly on both sides for 5 minutes each. Remove patties from the pan and serve hot on grilled whole-wheat buns.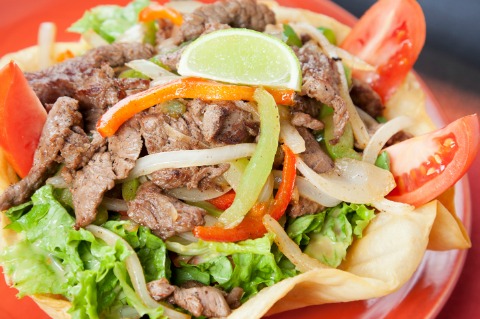 Fajita taco salad
Serves 6
Give taco night a new twist! Instead of loading up on carbs, make your spicy feast atop a bed of lettuce. Here's how.
Ingredients:
1 head romaine lettuce
4 plum tomatoes, chopped
2 large avocados, sliced into wedges
1/4 cup sour cream
1 red pepper, chopped into large chunks
1 orange pepper, chopped into large chunks
6 large jalapenos
1 small red onion, chopped into large chunks
1-1/2 pounds skirt steak, trimmed and cut into large pieces
1/4 cup lime juice
2 tablespoons olive oil
1 teaspoon chili powder
1 teaspoon paprika
1/2 teaspoon onion powder
2 cloves fresh garlic, minced
1/4 teaspoon cayenne pepper
1/2 teaspoon cumin
1 teaspoon sugar
1/2 teaspoon salt
Directions:
Mix lime juice, olive oil, chili powder, paprika, onion powder, fresh minced garlic, cayenne pepper, cumin, sugar and salt with whisk.
Pour mixture into a large freezer bag. Add skirt steak pieces, red pepper, orange pepper, onions and jalapenos. Squeeze the marinade around to coat well. Leave this mixture in the refrigerator overnight.
Heat your grill to medium-high. Remove the skirt steak from the bag and place it on the grill. Close the lid and grill for 3 minutes on each side.
Meanwhile, heat a skillet on medium and saute veggies in marinade for 5 to 7 minutes until softened.
Chop lettuce and place a bed of greens on each plate. Top with skirt steak and veggies. Garnish with avocado slices, tomatoes and sour cream. Ay, caramba!

Spaghetti squash pasta
Serves 4
Looking for a healthy alternative to spaghetti? Look no further. Spaghetti squash is a delicious substitute for pasta that tastes amazing loaded up with all your favorite toppings.
Ingredients:
1 large spaghetti squash
1 bottle tomato sauce with sausage
1 tablespoon olive oil
Salt and pepper
Parmesan cheese
Directions:
Wash and cut your spaghetti squash lengthwise. Scoop the seeds out and rub the inside with olive oil. Sprinkle with salt and pepper.
Place spaghetti squash face down on an olive-oil–coated baking tray and cook at 400 degrees F for 45 minutes.
Remove from oven and set aside to cool.
Heat tomato sauce in a medium saucepan on the stovetop.
Use a large slotted spoon to gently remove the spaghetti squash flesh. It should look like spaghetti noodles.
Place a generous amount of spaghetti squash on each plate. Top with tomato sauce and parmesan cheese. Enjoy!
More healthy eating tips
Breakfast recipes to boost brain power