Creative ways to leave lunchbox notes
Make sure that your kids know you're thinking of them while they're at school by leaving notes in their lunches. Kick up the fun with these creative ideas for making those notes unforgettable.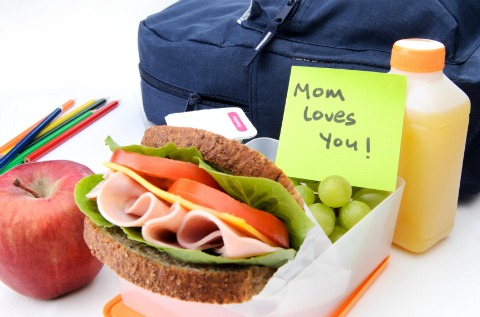 Edible markers
Let your kids eat your words by writing a short note on their sandwich with colorful, edible markers. Made from food coloring, the markers come in red, yellow, blue, green and black for creating any note or image that you can imagine. The colors stay bright on bread, cheese, fruit and most other foods. You can find them at almost any store that carries baking supplies, as well as on the internet.
Dig for information
Do you get frustrated at the shrug and stony silence when your child gets home and you ask about her day? Pack an index card with a question. Possibilities include: 
What was the funniest thing that happened this morning?
What is the most interesting thing you learned so far today?
What are you most proud of right now?
Be sure to include a pen so that your child can answer the question and slip the card back in her lunchbox. By the end of the year, you'll have plenty of insight into your child's life at school.
Say it with pictures
Over the weekend, take several candid pictures of family time, fun activities or just everyday life. Print the images out on computer paper (black and white is fine) and write your note on the image. Sharing the image will bring back happy memories and help your child keep a positive outlook, no matter how his day has been.
Just joking
Bring a smile to their face with a funny, kid-friendly joke or two tucked in with the sandwich. No matter how corny it is, the joke will brighten up the gloomiest day.
Don't just write down a plain joke. Use your creativity to make the note visually appealing. Use a sticker or draw a picture in place of one of the nouns in the joke. If the joke is about a chicken crossing the road, put a sticker of a chicken in the spot where the word chicken would be.
This coupon good for...
Every once in a while, tuck in a coupon for a special after-school treat. It can be as simple as a chocolate milkshake on the way home. It will give your child something to look forward to all afternoon. This is most effective if you do it on an irregular basis. The surprise factor will add to the anticipation and fun.
Don't forget the teens
While a note in the lunch is way too uncool for your teenager, there is nothing wrong with texting her a little note during her lunch period. She may not respond to it, but it will let her know that she is loved.
More on school lunch
Teaching your child to pack her own lunch
Not carrots, again! Fun ways to pack veggies