Prep a week's worth of snacks in an hour
Your turn for snack week? Don't run and hide under the bed. We've got a storehouse of yummy snack ideas that you can prepare in just one hour. Ready to begin?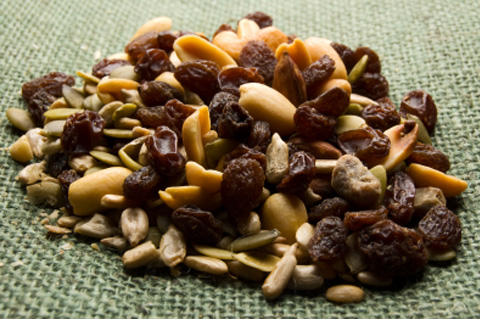 Preparing a week's worth of snacks for your child's preschool can be a daunting task. But we've got some fun and healthy recipes sure to impress the little guys. Get ready — it's time for a snack attack!
Dippity-doo-da
Who doesn't love a yummy dip? Pair almond butter with whole wheat crackers, hummus with pita chips, ranch sauce with veggie wedges, or guacamole with blue corn chips. There are plenty of healthy and delicious store-bought options at your local natural grocer, or try making your own. Here's our favorite recipe for hummus:
Best hummus
Ingredients:
2 cups cooked garbanzo beans
4 tablespoons lemon juice
3 tablespoons tahini
3 tablespoons olive oil
3 tablespoons water
1 clove garlic, chopped
1 teaspoon salt
1/2 teaspoon black pepper
Directions:
Place all ingredients into a blender and grind until smooth. Add more water if you wish for a creamier consistency.
Fruit kabobs
Fruit kabobs are a huge hit with the kiddos and a healthy way to get more fruit in your daily diet. A fun way to make this snack interactive is to send a fruit tray with wooden skewers and let the kids make their own. Choose a colorful assortment of fruits like pineapple, cantaloupe, honeydew melon, strawberries, blueberries, kiwi slices and grapes.
Baked veggie chips
Say goodbye to packaged chips and hello to guilt-free snacking! With this simple recipe, you can make baked veggie chips in your own oven. They taste amazing and will store in an airtight container for up to a week.
Homemade veggie chips
Ingredients:
Blue potatoes
Sweet potatoes
Beets
Kale
Carrots
Turnips
Olive oil
Salt and pepper
Directions:
Using your mandoline food slicer, chop your veggies into thin, uniform slices. Place veggies into a large bowl and douse with olive oil to lightly coat. Sprinkle a small amount of salt and pepper and mix well. (You can always add more salt and pepper if needed after the veggies are baked.) Arrange the veggie chips on baking trays and cook at 275 degrees F for 15 minutes. Use a spatula to flip the chips, and bake for 15 more minutes, or until crispy but not burned.
Homemade trail mix
Some commercial trail mixes come with too much salt or sugary treats. Why not make your own? Buy containers of unsalted almonds, cashews, peanuts, macadamia nuts, pumpkin seeds and whatever else suits your fancy. Combine with an assortment of healthy dried fruits, like mango, pineapple, raisins, cherries, blueberries and apples. Now for the fun part! Add unique ingredients like goldfish crackers, corn nuts, Cheerios, dried coconut, granola or other faves. Send with Dixie cups for perfect toddler-sized servings.
Mini muffins
Bite-sized munchies are an ideal treat for preschool snack time. Make your favorite muffin recipe in a mini-muffin tin and serve with a tub of whipped cream cheese. The following simple recipe for apple walnut muffins is chock full of healthy fiber for growing tykes.
Apple walnut muffins
Ingredients:
2 cups unbleached flour
1 cup vegetable oil
1 cup sugar
3 eggs
3/4 teaspoon salt
1 teaspoon baking soda
1 teaspoon cinnamon
1 teaspoon vanilla
3 large apples, cored, peeled and thickly chopped
1-1/2 cups chopped walnuts
Directions:
Preheat oven to 350 degrees F and grease mini-muffin tins. In a large bowl, beat the oil and sugar for 3 minutes. Add eggs and beat for 1 more minute on high. In a small bowl, sift together the flour, salt, baking soda and cinnamon. Add this mixture to the wet ingredients. Mix in the apples, vanilla and walnuts. Gently scoop the batter into the muffin tins. Bake for 15 minutes or until a knife comes out clean
More snack ideas