Whole wheat French toast sticks recipe
French toast sticks are an all-time kid favorite breakfast. These crunchy, yet soft, sweet sticks are often served with a big container of maple syrup dipping sauce and are found in freezer aisles and cafeterias everywhere. As good as they are, they aren't exactly the healthiest of breakfast choices. Instead of giving in to the nutrition-void freezer sticks, make your own with this healthy, whole wheat recipe. Your kids won't know the difference!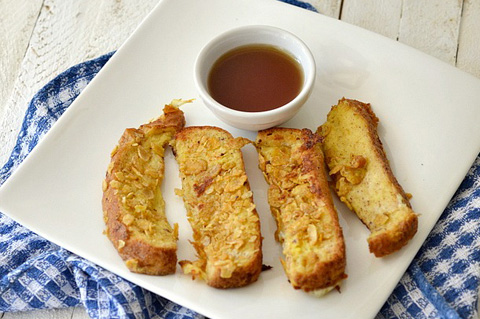 Whole wheat French toast sticks
Serves about 4
Recipe adapted from Cooking with Libby
These crunchy, sweet sticks are made with whole wheat bread, light cream and a dab of real maple syrup, so they are a little healthier than the ones you buy. Plus, when you make them at home, you can make them even better for your family by adding chunks of fresh fruit!
Ingredients:
6 slices thick whole wheat bread (or Texas toast or Italian bread)
3 eggs
1/2 cup light cream
1/3 cup skim milk
2 tablespoons brown sugar
1 cup crushed corn flakes
1/2 tablespoon cinnamon
Maple syrup
Fresh fruit
Directions:
Cut your bread into thirds and place them on the bottom of a greased baking dish. Preheat your oven to 425 degrees F.
Whisk the eggs, cream, milk, cinnamon and brown sugar together in a medium-sized mixing bowl. Once mixed, pour the mixture over the bread slices. Soak the bread for about 2 minutes in the fridge.
Sprinkle the crushed corn flakes over the bread. Then, place the sticks into the freezer until they are firm.
Once firm, bake for 8 minutes, flip and bake another 6 - 8 minutes, or until golden brown. Serve with a drizzle of maple syrup and strawberries and enjoy!
More healthy breakfast recipes
Healthy breakfast recipes for weight management
4 Easy organic breakfast recipes
Vegan breakfast recipes