Sandwich ideas for kids with peanut allergies
There's no reason to skimp on taste just because of peanut allergies. Check out our scrumptious kid-friendly selection of peanut-free lunchbox ideas.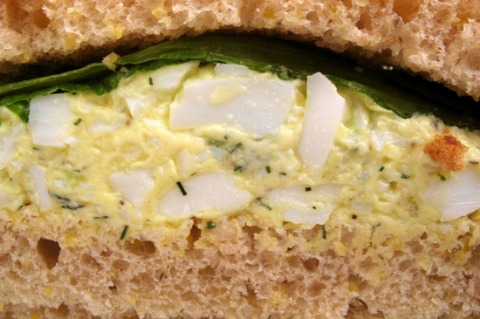 Cream cheese and cucumber
Sliced cucumber and cream cheese come together in this classic sandwich your kids are sure to adore. Want to mix things up? Try using a cream cheese spread with chives and dill, or make your own!
Tomato, cheese and avocado
There's nothing like a creamy wedge of avocado to make your sandwich come to life. We love the combination of tomato, cheese and avocado for a lunchtime treat, but feel free to experiment to find your own favorite avocado sandwich ideas.
Hummus and turkey
Build a better sandwich with tasty fillings like hummus! You can add hummus to almost any savory sandwich for an added zing. For kids who like to keep things simple, hummus and turkey is a delicious kid-friendly combo.
Chicken salad with grapes and walnuts
Give a boost to chicken salad when you add juicy red grapes and chopped walnuts. This protein-packed sandwich is full of flavor and fun. A squirt of honey mustard adds a delicious tang to this healthy lunch.
Almond butter and jam
For kids who are addicted to the traditional PB & J, almond butter is a perfect alternative. Just make sure to buy a brand that isn't processed in a facility that also processes peanuts. Almond butter not your thing? Try sun butter, cashew butter, pecan butter, hazelnut butter or brazil nut butter. The possibilities are endless!
Ham and apple grilled cheese
Sweet and savory come together in this all-star sandwich. Ready to get started? Simply peel and slice your apple into 12 thin slices. Add a layer of ham and cheese and fry that bad boy up in butter. Wrap in foil and stash in an insulated lunchbox to keep warm. Yum.
Egg salad
Another timeless classic, egg salad is a yummy lunchtime treat. Keep things simple by just adding mayo, mustard, salt and pepper to chopped boiled eggs. Or spice things up a bit by adding avocado, celery, red pepper, sweet pickle relish or other family faves.
Meatball hoagie
You can't go wrong with an Italian meatball sandwich. This is a great way to use up leftovers from spaghetti night while impressing your kids with an all-star lunch. Just lightly toast a hoagie bun and fill that baby up with cooked meatballs, tomato sauce and a sprinkling of cheese. Nom nom
More tips for packed lunches
Double the dairy in your child's lunch